This one has scratched a distinct itch!

It's not too relevant for Defensive Carry Forum hence not so exciting to most here, but it could do significant damage if one did nothing more than drop it on an assailant's foot.
Late Tuesday I picked up an important grail gun for me that's been on the list for more than 40 years now. It's a Winchester Model 1876. Its serial number indicates an 1883 production date. It's a standard rifle and when compared to the ubiquitous Winchester Model 94 carbine it's an immense rifle. Its acquisition completes a quest of mine to obtain an example of each of the 19th century Winchester lever-action models chambering center fire cartridges: Models 1873, 1876, 1886, 1892, 1894, and 1895. Oh, I also have long wanted a Winchester Model 1866, but its .44 Henry Flat rim fire cartridge would be nigh on to impossible to obtain and shoot and besides, 1866 Winchesters were expensive 40 years ago and have since climbed proportionately even further out of reach.
This one's the standard rifle with the standard octagonal barrel, 28 inches of shining patinated beauty and is chambered to shoot the thoroughly obsolete .45-60 WCF cartridge. .45-60 was like a lower powered version of the .45-70's late 1800s ballistics. A 300 grain bullet was standard. The .45-60 still would be a deer killin' daddy out to 100 yards or so. If you think there's a dearth of your favorite modern ammo out there these days just try to go online and find quantities of .45-60, ammunition or modern made cartridge cases. Still, it's a most glorious rifle in its stately immensity.
Besides, I can trim .45-70 cases back to correct length to handload to shoot the old thing. In addition to the .45-60 the Model 1876 could be had in .40-60, .45-75, and .50-95.
I really never thought I'd be able to come up with a Winchester Model 1876, even one in bottom-of-the-barrel condition. This one's an honest i-n-j-u-n (I intended to say i-n-j-u-n and I'm gonna say i-n-j-u-n, censor be hanged!) example, seeing lots of use and lots more age, but original and unaltered or bubba'd. Bore is typical 19th century afflicted due to the corrosive nature of both powder and primers of the era, but is merely frosted without unsightly pitting so frequently encountered, the originally shallow rifling lands yet exhibiting sharp edges at one turn in 22 inches. Bet it'll still group decently at 100 yards from the bench rest.
The Model 1876, otherwise known as the Centennial because of its year of introduction, is nothing more than the famous Winchester Model 1873 design rendered on a larger scale as an effort to provide more meaningfully powerful truly big game cartridges in Winchester's lever-action repeating rifle line. The Model 1876 rifle was expensive when new, its action awkwardly large of necessity in order to handle black powder cartridges of truly big game proportions. It was upstaged in only a single decade by the John Browning designed Winchester Model 1886 which, though was itself large was more compact, yet was both capable and stronger of design to handle even longer and more powerful black powder cartridges.
You see, until Browning's inspired design Winchester couldn't devise a lever-action repeating rifle large enough to handle the .45-70 cartridge so they whipped up some shorter cartridges which strained to approach 19th century .45-70 ballistic effectiveness. The old Winchester toggle action which is of pre-Civil War design (see Smith & Wesson and Volcanic rifles) would have had to be lengthy indeed in order to handle .45-70 length cartridges. In addition, its toggle locking feature was considered to be quite weak. Upon its introduction to the market the Model 1886 left the Model 1876 sucking wind and so the ol' '76 had the lowest production by far of any 19th century Winchester lever-action model. It was the only lever-action Winchester model killed off prior to 1900 as it was discontinued in 1897 after a production run of only 63,872, its proprietary cartridges set adrift. Even the Winchester Model 1866 with its brass frame and .44 rim fire cartridge managed to stagger on to 1900 still listed in the Winchester catalog.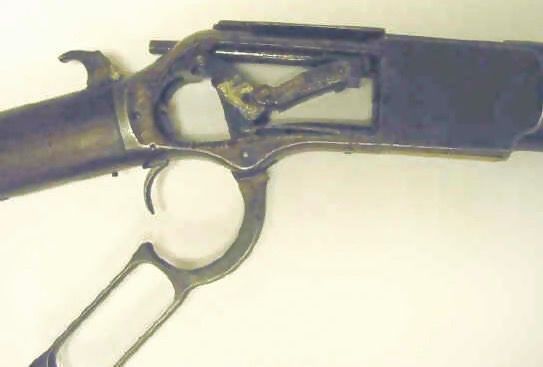 A photograph gleaned from the internet showing a Model 1876 with its receiver side plates removed and the toggle link action revealed. Looks for all the world and operates like a Luger turned upside down. Georg Luger was said to have derived the idea of his pistol from this design.
Tom Horn was said to have owned and used a Winchester Model 1876 in this exact configuration, right down to the .45-60 caliber. I'm not certain about the supporting documentation of that claim and there is some question whether Horn really committed the murder of Willie Nickell for which Horn ultimately hung.
I've long said that I liked big and heavy guns, both rifles and handguns. Well, this one may be big enough to satisfy even me for it's a big 'un.
At 10 1/2 lbs, it's a big ol' hunk a' iron. Come deer season, watch out!
Seen here in between the wheel wells of a long wide bed pickup box and with its older and smaller brother, the Winchester Model 1873 standard rifle, no dinky peewee sized rifle in itself with its long action and 24-inch barrel. A garden variety Winchester Model 94 Carbine shown for comparison purposes, stunted little malnourished thing that it is.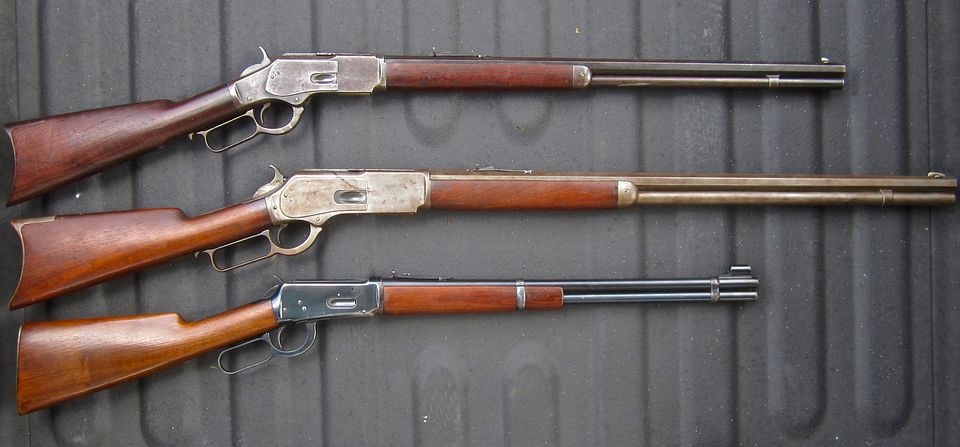 Thing is, that Browning designed medium framed Model 94 is a much stronger design and its cartridges can provide arguably more efficient effectiveness with flatter trajectory than the gargantuan Model 1876 can.
Teddy Roosevelt favored the Model 1876 when he was young, having three of them in different calibers. Here he is posing in a photography studio with a favorite, this Model 1876, being an uncommon variation having a half round half octagonal barrel and a short "button" magazine as well as featuring a pistol grip high grade walnut stock with a shotgun butt and finely cut checkering. Is that a scratch we see down the rear of the butt from the inlaid medallion?!!!