Discussion Starter
·
#1
·
Well not everybody will be surprised, e.g. one that won't be surprised is
Glockman10mm
he called it right all along.
This is picture results of the 750 round minimal lube test I ran on a
suppressed, 12-1/2" SBR
a few weeks back.
As you move through the pics, understand these are quite difficult to take due to the details, lighting, shadows, etc. In some cases I created cutouts and blew them up so we could see them better. Nevertheless, pics will never be like seeing in person.
Here we go - the dirty stuff first:
And now for the clean-ups and damage done.
As for the damage done - I really didn't see any damage. You can't see the non-damage as well from the pics as in person, but there's enough in the pics to indicate the condition.
Here's a shot of the cleaned up bolt from the top with a cut out:
and another view: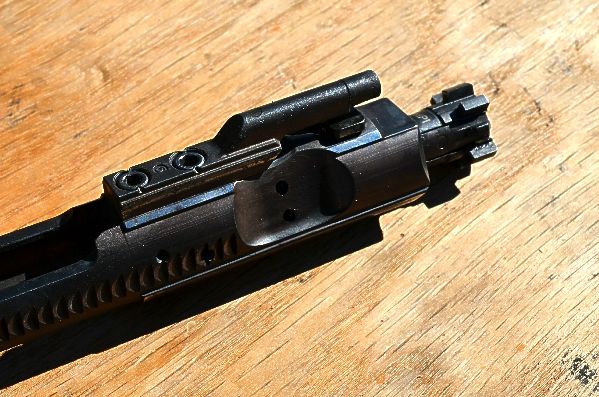 And another view, although I really did not expect to see any damage on the BCG (and there isn't) because it's steel riding in an aluminum receiver.
Here's an inside the upper receiver shot. These are the hardest to shoot and understand, soooo...what you want to look at is the thin, long shiny part just about in the center of the picture. That's one of the receiver rails the BCG runs on. It's hard to tell from the pic, but you can still clearly see the machining marks where the rail(s) were originally machined.
It's not that upper shiny strip, that's the top of the receiver, not a rail. I guess you can see why I had such a hard time getting decent pics
In fact in the following pic, I could get a focus on the rail near the rear or near the front, but not both. But to the eye, the machining marks are quite prevalent. If there had been much wear, they would be gone or almost gone.
To recap, I applied lube to the BCG rails with a q-tip; put one drop in the bolt cavity, and one drop on the bolt cam pin. I then proceeded to slow fire 750 rounds with absolutely no cleaning and no more lube of any kind. I really don't see any damage to the bolt or the upper receiver. There may be some wear, but it appears to be minimal.
Clean up wasn't that bad either. I didn't get it spotless and you can see a few stains, etc. in the pics, but there are no scratches, scars, scuffs, etc.