Discussion Starter
·
#1
·
THE BEAR CUB
SMALL LIGHT BIG PERFORMANCE
Not long ago to get magnum illumination out of a flashlight, I had to drop down the tube, six of the big D batteries on a Maglite 6 D size.
That the light weights three pounds one ounce and measures 19 ½ inches was just incidental to the use if I wanted to get a really good, powerful beam.
Later Surefire come up with small lights that could take two and three or four small but powerful 123's camera batteries, some of those lights, come up and surpass the 181 lumens of the big Maglite 6 D.
I am thinking now of the specialty tactical light than Surefire have as the M-4 that uses four of the 123 batteries for 225 lumens for one hour run time. The M-4 was made famous by been used in the CSI Las Vegas series.
Incidentally the M-4 is not precisely inexpensive, costing $330 USD from Surefire or their dealers.
The only problem is that the little 3 volts batteries are quite expensive, and using four of them for one hour run time can cost you $8.00 for that hour.
And that is if you buy them at discount over the Internet, when purchased in the camera stores (such as Wal Mart) the little 3 volts batteries cost as much as $4 each.
So a light of the size of the Surefire M-4 (9 inches long) was highly desired if it could be made to run on rechargeable batteries, to avoid the big battery expense of the M-4.
Enter the Bear Cub, a nine inches light, with a 13 oz. weight that is rechargeable and uses Lithium Ion batteries.
This little light makes 220 lumens for 90 minutes of run time, and then recharges its two batteries with a fast charger that is included, in three and a half hours.
The Lithium Ion batteries can be recharged up to 1,000 times and when they eventually get depleted can be replaced with $30.
HERE IS A PICTURE OF THE BEAR CUB LIGHT, NEXT TO THE SUREFIRE M-4.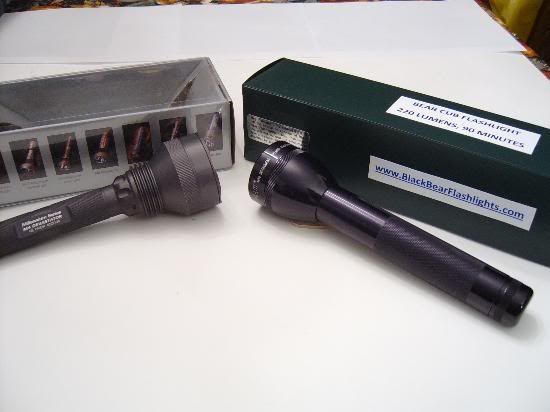 AND HERE NEXT TO THE MAGLITE 6 D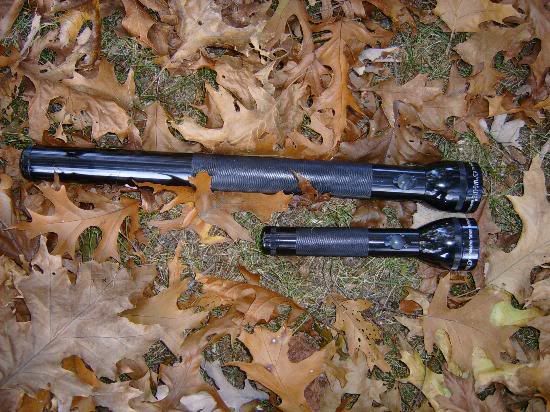 And here a couple of beam shots at 26 yards for comparison.
MAGLITE 6 D
BEAR CUB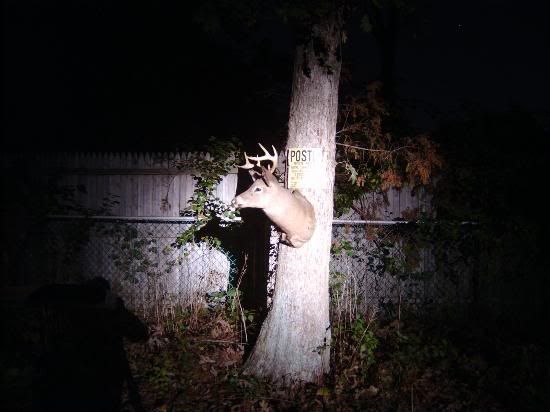 Yes the little rechargeable Bear Cub is characterized for an intense white light, and a run time of 90 minutes, all in a small size that can fit in any glove compartment or trench coat pocket.
Best Wishes
Black Bear