Discussion Starter
·
#1
·
Being a part of the personal protection and preparedness industry in addition to perusing the forums in search of new and useful gear, I see a lack of first aid information that is easily digested. It seems that most stuff is either written for a Delta Force Medic or a Mommy tending to a scraped knee. When you add this to selecting a pre-made kit or putting your own together, things can become overwhelming.
In the beginning of every MCS class, we go through introductions during which I ask who my first responders, EMTs, paramedics, and doctors are. Then, I ask who has kits with them. This is always important stuff to know in a group. During our last Combative Pistol Course in Indianapolis, I was pleased to have about four students with kits within arms reach.
We believe in overall preparedness and the need for individuals being able to deal with problems from falling through a plate glass window, to dealing with a violent attack. We also believe in trickle down training. This means that all students should be able to teach the principles of what they learn to others they care about. This is especially true when it comes to first aid.
I recently used a rainy weekend to check all first aid kits, including my personal kit that rides in the Bag of Evil.
All kits are basic and include items that will let the people that are most likely to use them in the situations that will most likely occur in the enviroment.
Household Boo Boo Kit- small plastic box with things like burn gel, band aids, and Sting Eze. This kit is kept in kitchen.
Household Trauma Kit- contains some of the same things as the Boo Boo kit with the addition of lots of blood stoppers, 4X4s, Kerlix, and ice packs.
Mobile Family Kit- this is a larger kit that combines the contents of the household Boo Boo and Trauma kits to manage emergencies on the go. The family kit is adorned with lots of red parachute cord so as to be identified by anyone set to retrieve it.
All kits contain 3 pair of nitrile gloves packaged in a small Zip-Lock bag. The driver and passenger side door pockets of all vehicles also contain 3 pair of gloves packaged the same way.
The last kit is my personal one. Having a higher level of training than my wife and kids, some things are included in mine that are not in the other kits. My FAK is always in the Bag of Evil, which is never more that a few feet from me. My kit is contained inside of an Eagle Industries Shaving Kit bag. It too is broken into a Trauma and Boo Boo Kit packed in two Zip-Lock bags.
Trauma Kit contains-
* Asherman Chest Seal
* CAT Tournaquit
* Quik Clot
* Kerlix
Boo Boo Kit contains-
* Bandaids
* Steristrips
* Neosporin
* Tape
* Dermabond
* Tagederm
* Burn Gel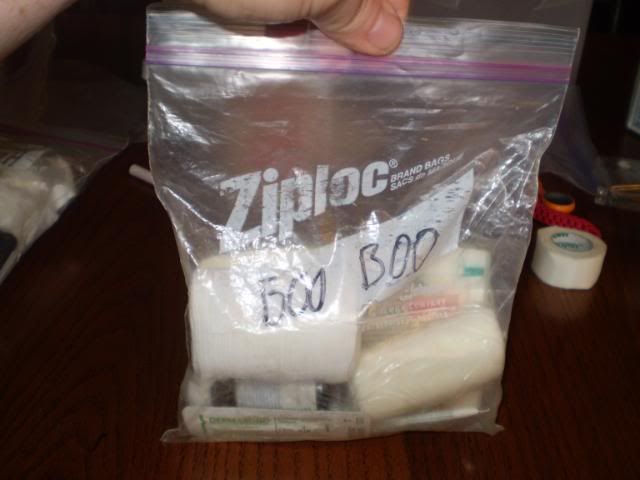 Obviously missing are OTC and RX meds that are carried in the front of my pack with other EDC stuff. When possible, I try to pack individual packets of pills instead of big bottles and liquids. The bottles take up valuable space and liquids dry with constant temperature changes. Some of what I carry includes:
* Decongestant
* Pain reliever
* Antidiarrheal pills
* Antacids
We also have bandaids stashed all over the place. You can set a good example for your kids and make them feel safer by not having to search for a band aid. This promotes overall self reliance.
I am not the burning book of emergency medicine and this article is not meant to be an end all be all guide to FAKs. It is intended to provoke thought and conversation about first aid skills and gear for everyone regardless of their level of likely need and interest.
Starting in 2010 every MCS class, regardless of subject, will include a block on management of traumatic injuries.