Discussion Starter
·
#1
·
I just picked up a (according to what the wholesaler, RSR, told a dealer) Japanese government overrun/reject/whatever S&W 37-2 from a local shop this a.m. After the Japanese didn't take them, RSR has been wholesaling them at loss-leader prices, and apparently my dealer got into one of them.
The new S&W 37-2 looks cute with my Ti Hideaway knife and my Surefire E2e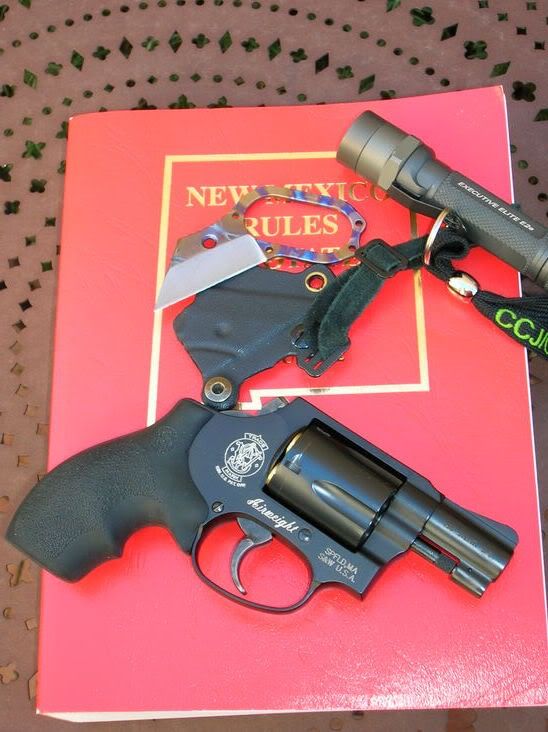 I paid the full sale price of $389 (they had marked it down from $459, which is still a good deal), which I figured that was a smoking good price for a brand new S&W J-frame (not the J-magnum-frame!) w/o the idiot lock or any MIM parts (even w/o the SA notch on the hammer). (Apparently the Japanese govt doesn't like MIM or the idiot locks any more than most of us do, although I admit I know so little about metallurgy that my prejudice against MIM is mainly just howling along with the rest of the gang of apes.)
There's been some fuss on the S&W Forum about whether these are +P safe or not. I figure I'd be fine using limited +P in mine - the same way I always used limited +P in my J-frames, regardless of when they were made. (Heck, if Elmer Keith could torch off some of the loads he reports in
his
36 back in the '50s, and John Taffin as well in modern times, I'm fine with wussy factory +Ps.)
Anyway, the handloads that I carry in my Js are technically standard-pressure (at least acc. to the Speer Manual #12, but right at max). They'll throw the Rainier plated 148-gr WC at an average 896 fps out of the front of the 1 7/8" bbl that I tested them in (968 fps from the two 3"ers I tested). I'm not too worried about limited +P use, though, and actually plan to carry the more-anemic-than-expected 147-gr +P+ Federal HS load (897 fps out of my 3" guns; haven't tested it in the 1 7/8") in reserve (because the Hydra-Shoks are easier to feed quickly into the revo's chambers than my WC handloads).
My plated WC handloads are purty!
Amusingly, the S&W factory folk included a pair of idiot-lock keys with my no-idiot-lock 37-2. I deposited them in the same place as I did the fired cartridge case. :wink:
Oh! And I went by Sportsmans Warehouse and got some Hogue Bantam stocks for the thing, since I
HATE
the way those Uncle Mike's/Butler Creek things they put on them fit my hands and since the Hogue stocks are even LIGHTER than the UM/BC ones. The gun is
light
(it was 12.5 oz unloaded before I switched the grips), even when loaded.
Look, Ma! No idiot-lock!