Checked the mail yesterday afternoon and my new holster had come in from Gary Brommeland. I took a series of pics comparing the "Service Grade" to his ... err, "Premium" Max-Con V (what'cha gonna call the original now Gary?). First off, I have to apologize for the quality of the pics, the light was fading fast and I rushed several shots - I'll try to replace the blurry pics with better ones, though it'll be at least Monday before I get the chance.
In any case as I said in Gary's thread, I had to put both holsters side by side and look closely to see the differences between the two. The detailed boning is all there, just maybe not as crisp in some areas. It's MUCH more refined than I'd expected. The dye and acrylic finish on both seem identical to me as does the built in curvature for the hip. In fact, it's so close that I waited for Gary to confirm that this was
indeed
a Service Grade holster and not a "first run" that got sent by accident before posting these pics. Here's the original, "Premium" holster shots first followed by the corresponding "Service Grade" pics for comparison.
First off, here's a full shot of the Premium:
Now the Service Grade: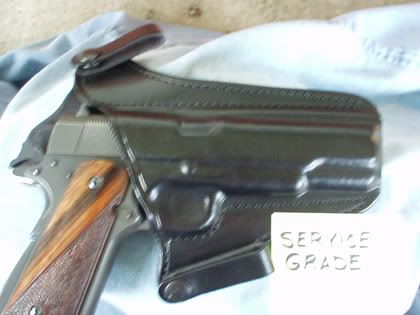 Detail of the ejection port - Premium (note the crisp line at the upper edge):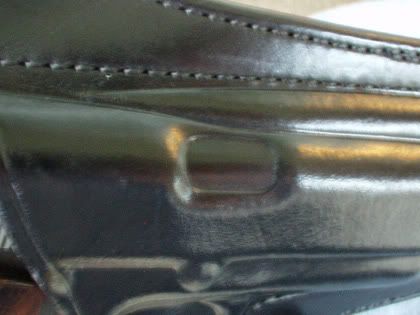 And the Service Grade (just a bit softer detail at the upper edge):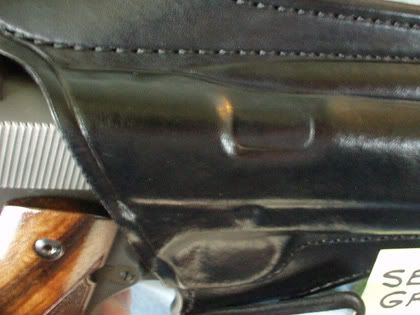 Detail of the trigger guard area - Premium (sharp edges between frame and slide, inside the trigger guard and the trigger itself):
And the Service Grade (again, just a smidge softer):
Thumb safety detail, backside of the holster - Premium (nice and tight around the safety, note the detail in the slide release):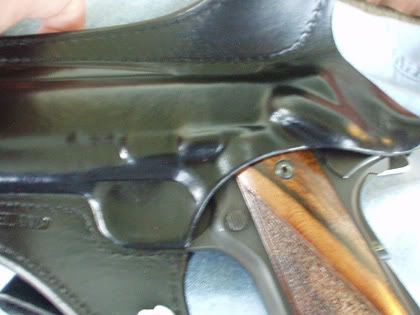 And the Service Grade (Again, just a tiny bit less around the safety - still positive engagement though :yup: and slide release):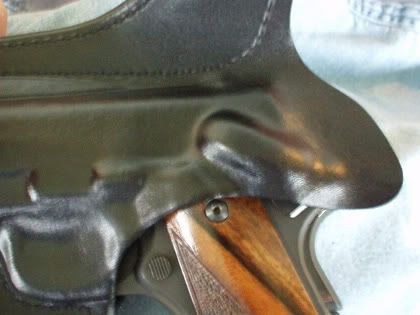 Now you guys tell me, does the "Service Grade" look like it's any less than the first rate work you'd expect from Gary? The price on the receipt is $69.95 vs. $89.95 for the original, premium grade holster. Maybe it's just me but I consider that one HELL of a deal!
As soon as funds allow I plan on ordering a Service Grade Max-Con V AND a Def Con for that XD I've got sitting in layaway - probably a Def-Con for my 1911 too. Thanks for a great holster and the chance for a "sneak peak" at what's coming Gary (and Mrs. B too! :hand10
. I'd say you two are about to get a
WHOLE
lot busier up on that mountain! :congrats:
Jack