Discussion Starter
·
#1
·
Was very happy with the Colt. I fired two hundred rounds of mixed fodder and I am satisified that this gun is good to go right out of the box. So hang with me as I try and piece together my impression, thoughts and performance with the gun together.
The first thing I did was load the 2 eight round mags that came with the Colt 48 hours ago. This was Thursday night. I did this to give allow them to take a "set" and be what they will be during the first shooting of the gun. It has been my experience with the 1911 that the magazines are always the potential problem.
I also loaded the mags with my hot handloads of 230 weight ball ammo under copious amounts of Unique powder. My intention here was to run it hard and get it dirty. If its gonna break or show signs of problems, I want to go ahead and bring that out. Also, my "range and plinking" handloads are assembled quickly and with not alot of QC, so if it fed these OK with that tight National Match barrel, I would not have to shoot my carry ammo by the hundreds thru it to feel confident.
For the range, I took the gun apart and applied a light coat of Tetra Gun grease to the barrel, locking lugs, slide rails, and barrel hood. The reason I did this was two fold. Number 1, I was going to shoot hard and get the gun hot, so I wanted the metal to metal fit to wear in, but prevent premature wear or scoring. NUMBER 2, grease collects burnt powder and debris, and doesnt let it move around which can cause fouling issues that induce mechanical malfunctions such as sluggish operation.
Doesnt make sense does it? Kind of counter productive? But, there is a method to the maddness here. While offering full protection, I still wanted to shoot it hard and fast, get it smoking hot, and see what it would do even before loosening up. If you do this to a pistol, you dont need to shoot 500 round thru them for break in, and you can save money and time.
The first 3 mags, two factory and 1 Wilson 47D, fired a total 23 rounds mixed with my handloads and Winchester Ranger without a hitch. I continued shooting at a distance of 10 yards loading and shooting as quickly as I could. I had 2 failures to go completely into battery somewhere after about 10 mags full, that simply required a little push from my thumb to the back of the slide to resolve, and one round of Winchester Ranger that failed to completely feed. However, as I dropped the mag to clear it, it popped right in on its own. I attribute this to the now completely fouled chamber of the tight National Match barrel.
I continued to shoot until I had exhausted my ample supply of handloads, and began on the 60 remaining Winchester white box fodder. Everything worked fine, although I could tell the action was getting sluggish.
The impressions I got were that the front sight is a Novak fiber optic type which works well, but I am still undecided on keeping it. It is not conductive to allowing the best accuracy potential from the tight fitting NM barrel. But it is certainly easy to see if there is some light, but a Night sight, it is not.
The thin grips feel absolutely great in the hand, and they will stay on the gun. To me, they do tend to fatigue the hand more during extended shooting, but in real world use they are comfortable and allow a better access to the fire control mechanisms.
The memory pad on the grip safety is comfortable, and doesnt poke the web of the shooting hand, but it gives you an absolutely positive engagement of the palm safety. It is very well designed indeed.
Accuracy much better than needed. Here is a pic of 10 yard groups fired in fairly rapid pace to get the gun hot.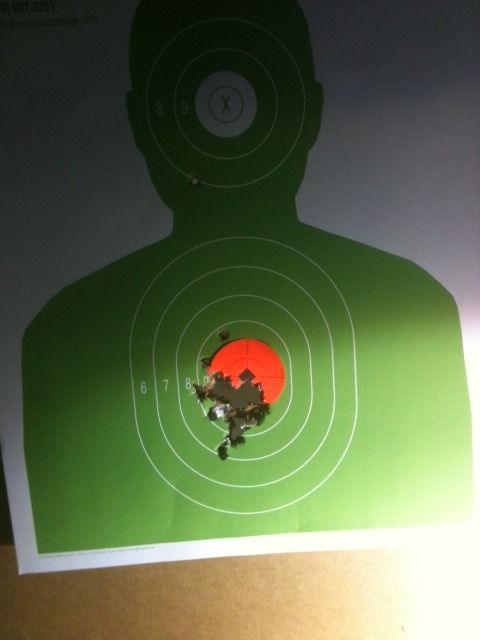 Here is a pic of that target from my perspective
After I was satisfied it was working up to my standards functionally, I took it back to the 25 yard line for some head shot work. I fired these mags slower, as one would if taking a shot. However, the pancakes I ate prior to the range session was causing me to get a little shaky, but its still obvious how easy it is to shoot this gun well
Overall, I can tell you I am highly pleased with this Colt. Althoug it was covered in messy greasy black goo by the end of my test, and being sluggish, it still functioned properly. The few bobbles that occurred were expected for a new gun, especially one this tight. There is absolutely no visible play between the slide and frame fit even after this test.
Heres a pic of the gun after shooting. Note: I had loaded and holstered it prior to leaving the range, so the holster kind of cleaned off some of the black grime. It was much, much worse prior to holstering.
In conclusion, I would like to say that for me, I am more interested in a gun that is highly accurate and shootable. I dont mind a few bobbles in a couple hundred rounds. As long as it will feed 3 or more mags with complete reliability and dead nuts accuracy I am fine. And it seems the Colts made these days will do way more than that, even when dirty.