Discussion Starter
·
#1
·
I'm considering a few small changes to my 1911 should I decide to keep it. Here is the most recent picture of it: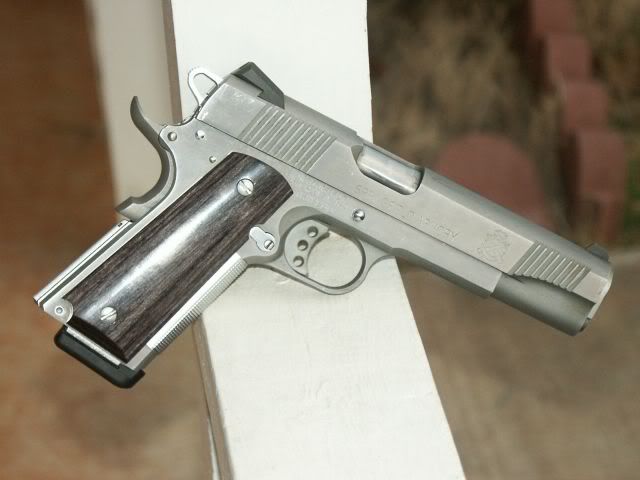 Some of the external modifactions I am considering are a change to the grip safety and another change in the grip panels. I'm also considering taking off the Wilson Combat front strap and trying non-skid tape like I have on my Ruger P95.
One of the things that I don't like about this 1911 is that the I can't keep a positive, consistant grip on it. It feels like there is a "void" along the backstrap that just isn't comfortable to me. I like a very high grip, and I just can't get a solid contact in the area under the beavertail/tang like I do on other bottomfeeders. I have not noticed this problem when handling Kimbers. I was checking out their webpare earlier, and I noticed that the grip safeties on their pistols do not have the flange on them just above the mainspring housing like my Springfield does. Note the grip safety in the following pic:
The grip safety in that one seems to have a flatter profile and appears that it would have a flatter backstrap whereas the grip safety on my Springer has that flange in it just above the housing that may be causing the grip to not feel solid to me. I wonder if a change in this area might help. I have noticed other brand pistols with an even flatter profile on the grip safety.
As far as grip panels go, I changed from the factory panels to the Hogues that are on it now because the checkoring on the factory panels was too sharp. It hurt to grip with them, and it made it difficult to slide my support hand into position when aquiring the two-handed grip. The current panels allow for easy, comfortable gripping, but they are not the best for maintaining a positive grip under sustained fire. I may try to use leather or denim to knock the sharpness off the checkering on the factory grips or just find a set of checkered panels that are not as sharp as the factory panels.
Internally, I would like to improve the trigger on this pistol. It's fine as is for combat style shooting, but I would like it better for more precise shooting. I have shot a Springfield Trophy Match 1911 that had a very nice trigger on it, and precise shots were not a problem for me with that pistol. I'm wondering if maybe some light polishing on the engagement surfaces would help, or maybe I should change out the sear to one of the match grade sears from McCormick, Brown, or Wilson Combat.
I'm open to comments and other suggestions.