Discussion Starter
·
#1
·
Know that after months and months of waiting...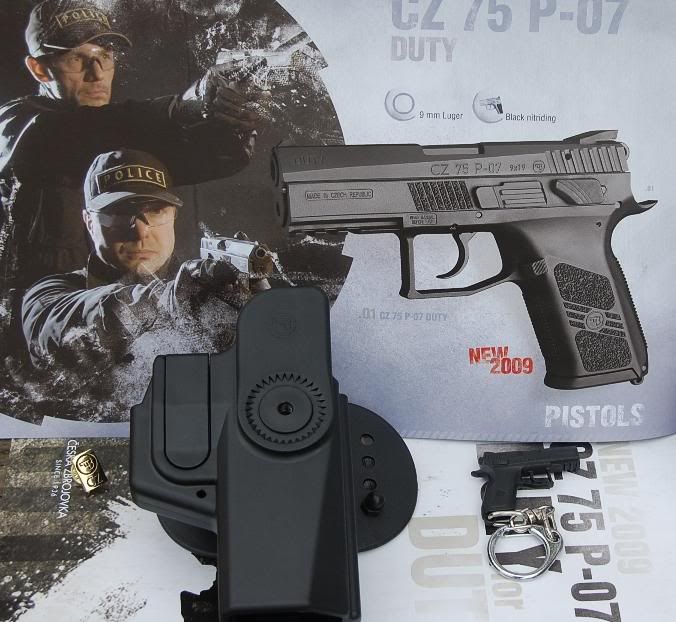 My local shop had a Duty when I stopped by to drop off the last of my CZ-USA catalogs, and also a few P-07 Duty fliers.
Sillky light SA with a hint of creep in the DA that Is
light years beyond the usual 75B camming.
And it seemed quite compact and thin in my hands.
I can't believe that a double stack 16 shot magazine
fit in a gun so Thin!
The frame would probably chew up my girly hands in no time.
I Would put on a grip sleeve of some sort.
I was delighted with the way it felt pointed..better than a Glock 19,
but still a bit blocky like a Glock.
Nancy liked it, too.
No issues with slide lock,,hard to release the slide, or mags sticking.
I can really see why CZUB and CZ-USA are so excited about this gun!
Again, it is light, compact, points well and has a superb trigger for a decocker
gun. I think that Omega trigger in SA almost made me cry
However, the saddest part is that with Christmas coming up and
Nancy's health insurance rates going up!
I'll probably not able able to afford one until Summertime in 2010.
Note: I didn't even notice the Bulge on the frame.I was too busy
enjoying the moment!
More Info:
NEW For 2009! Polymer Framed Compact!
-----------------------------------------------------------
MORE P-07 DUTY: HOLSTERS