Discussion Starter
·
#1
·
Deputies who were fired and escorted out of the building at gunpoint, are rehired. But then they are demoted and punished.
And the Sheriff looks so pleased about it too. Can you tell? This guy is certifiably nuts, and in my personal opinion, a racist. Does anyone here honestly think that a white Sheriff could get away with firing 27 all black employees without being sued by the NAACP and the ACLU? Where are the so called "civil rights" groups on this one?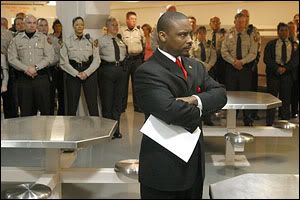 JONESBORO, Ga. (AP) -- More than two dozen employees fired by a sheriff on his first day in office returned to work Thursday, a day after they failed to obey an order to come in.
The 27 workers, mostly deputies and officers, will be disciplined for Wednesday's absence, said Evan Kaine, attorney for Sheriff Victor Hill.
Harlan Miller, the attorney representing the employees, said they were not given enough notice to return. Also, he said, one employee had resigned.
Hill says he was reorganizing the 345-person department when he fired the workers on Jan. 3. A day later, a judge ordered Hill to rehire them amid questions of whether they were terminated without cause, in violation of civil service rules.
Hill agreed this week to take the workers back at the same pay but not necessarily the same jobs. The employees were then assigned to be corrections officers in the jail, and Hill met with them Thursday to discuss their duties.
Hill said he considers the 27 employees AWOL for not returning to work Wednesday.
"They are violating the very civil service policy they think they are under," Hill said.
The workers are also challenging their dismissals in federal court, claiming they were racially and politically motivated. The fired employees included four of his highest-ranking officers, all of them white. Hill, who is black, has denied any discrimination.