Discussion Starter
·
#1
·
For those of you who don't know... EDC refers to all the gadgets, gizmos, and sometimes seemingly useless junk that we carry with us at all times (or at least most of the time).
For some people, it isn't much more than a set of keys, a wallet, and maybe a small pocket knife...
Some have stepped it up to include mutli-tools (SAK, Leatherman, etc.)...
Most here carry a tool to be used for self-defense should the need arise.
I, for one, would just like to see PICTURES of what you keep on, or near, you in a normal day.
If you want to post pics of your Murse (men's purse) and list it's contents feel free.
This is not a pics-only thread, but I encourage anyone who wants to ask specific questions about other's EDC items to please participate by including your own.
I'll start with what I EDC %99 of the time...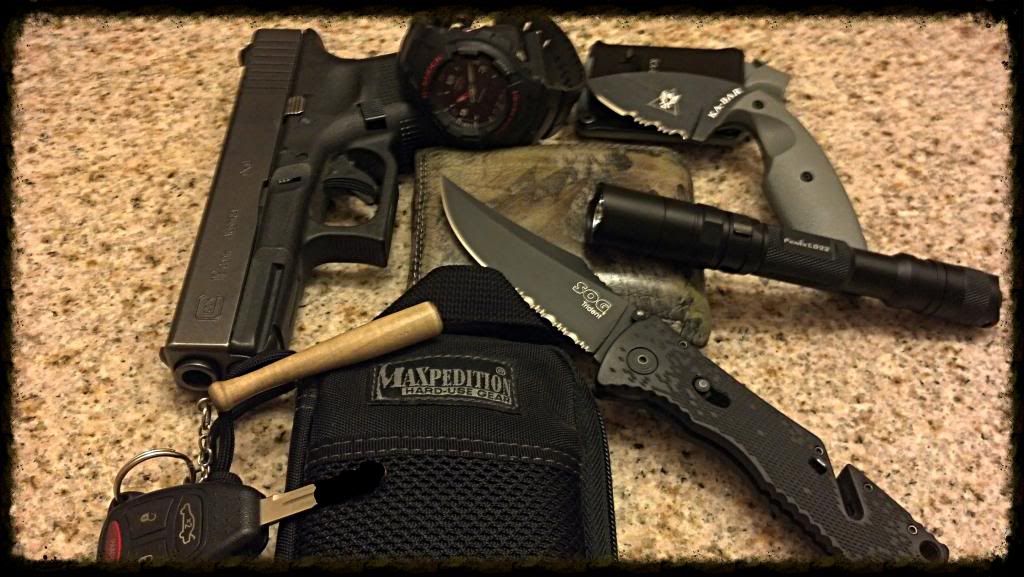 Starting at 12:00 and going clockwise: Casio G-Shock G100, Ka-Bar TDI combo edge in foliage green, Fenix LD22, SOG Trident, Maxpedition Mini pocket organizer, Dodge Charger key w/baseball bat keychain (from my daughter), Glock 19 Gen 4, and in the center... Camo leather wallet.
Mini contents (L to R): Sewing needle, Bic lighter, Leatherman Juice S2, inkpen, pocket screwdriver, behind this in the slip pocket is change for a $20. Several bandages, zipties with a rubber band, Nylon thread (used some of this to repair a trampoline once and was amazed at how well it held up), 2 paper clips and some longer zipties, behind this is a small notepad and some duct tape wrapped around an old gift card and a few alcohol wipes.
This is a pic of my G19 in the holster I use the most (Galco KingTuk). It is sitting on top of a Maxpedition Kodiak which has a ton of stuff that I like to keep with me. I don't wear the bag everywhere I go, but it stays on my workbench while I'm working, in the truck when traveling, and into the house at night... not quite a BOB, but close.
Not pictured is my cell phone, which I used to snap these pics (which is why they aren't top quality)
Believe it or not, I carry all of this with me without looking like a walking toolbox and clinking like a cowboy with spurs at every step!!!
So...
What do you EDC???
:hand15: