Discussion Starter
•
#1
•
Y'all've heard it all before, probably seen these photos at some point here on Defensive Carry. I posted a history of the military contract New Service revolvers on another forum and thought to place it here as well, mostly as an exercise in cuttin' an' pastin' to see how the new Forum format works.
Favorite Colt revolver model.
Not the Python and not the Single Action Army, though both live here, but the stately and elegant New Service is my personal favorite model of Colt Revolver. Two of the large revolvers live here, both U. S. military contract models. Would love to go on a collecting tangent and gather in New Service revolver variants in all chamberings and all barrel lengths.
All it takes is money.
This New Service Model 1909 was a stop gap for our military, rushed into service just before the eve of the introduction of the Model of 1911 .45 automatic. So the story goes, the .38 Long Colt cartridge wasn't cuttin' the mustard with troops involved in the Philippine Insurrection and keeping the peace there in the first decade of the 20th Century.
Colt was tapped to provide their New Service revolver to the armed services: primarily Army, a few for the Navy, and a smidgen for the Marines. Revolvers were marked as to branch on their butts. Army marked Model 1909s are uncommonly seen. Navy marked Model 1909s are scarce. USMC marked 1909s are rare.
This Model 1909 U. S. Army revolver was mustered out of service when it was sold as surplus from the San Antonio Arsenal in 1920. Sold along with four other Model 1909s for $5 each along with 500 rounds of Frankfort Arsenal .45 ammunition for one cent per round.
The revolver is chambered for .45 Colt and it well handles modern .45 Colt cartridge cases. For shooting quantities of ammunition I handload for it. The original Frankfort Arsenal military .45 ammunition featured a rim slightly larger in diameter and thicker than the commercial .45 Colt ammunition of the day so as to provide for more dependable simultaneous extraction.
My good ol' gun club bud's father purchased the five revolvers and the ammunition to arm the nightwatchmen at the ice cream and ice plant where he was employed as superintendent there in San Antonio. He carried one home where it became the Lawson family household defense handgun. My ol' gun club bud was 13 at the time and immediately appropriated it and as much ammunition as he could pilfer for adventures on their ranch over in Kerr County southwest of Kerrville, Texas. The revolver also made trips to a ranch the family owned west of Victoria, Mexico. All manner of game and critters fell to the revolver for the next few years: turkey, ducks, alligators, monkeys, even a deer. The revolver accompanied the family on their big vacation trip in 1926 through the western U. S. where they visited Yellowstone, the Grand Canyon, Yosemite, and other spectacular sights, the Colt traveling with them in their new 1926 Willys Knight touring car.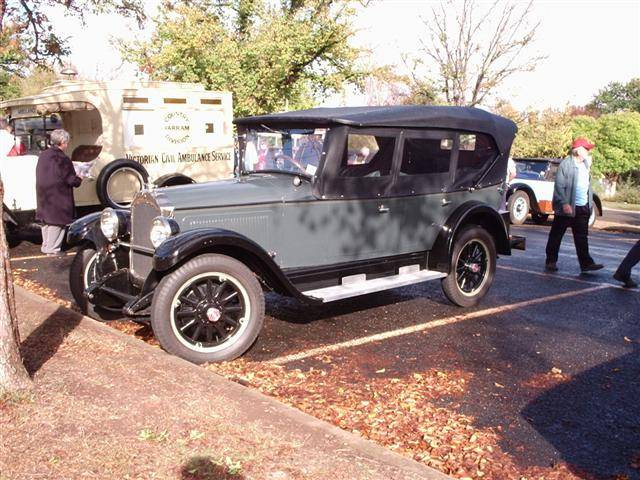 Fast forward some 78 years from when he was first introduced to the big Colt, he deemed me worthy to purchase it from him.
Now these Model 1909s were needed in the Philippines so most were shipped there soon after the were produced. This site indicates that 19153 pistols were shipped to Manila Ordnance Depot and 350 were shipped to Springfield Armory.
The Collection - US Military Revolvers
This one very likely wasn't included in the shipments destined for Manila for the typical Model 1909 quickly turned brown in the humid climate encountered there. Model 1909s are hard to find, being desired by both Colt collectors and U. S. military small arms collectors and most every Model 1909 found shows little remaining of the outstanding high polish blue finish having turned to a brown patina. Even those 1909s are sought after.
Colt New Service 1909, the last of the great revolvers
Utilizing the Colt Look-Up website shows this revolver to have shipped from Colt in 1911.
Colt's Manufacturing LLC
I love both Colts and U.S. military arms, but never expected to add a Model 1909 to the collection here, even though I was familiar with this revolver for many years before it was offered to me.
I suspect this revolver was accepted into stores and never issued prior to "mustering out." Just conjecture on my part, but I'm guessing that all the wear it exhibits occurred over the 70+ years it saw adventure with the Lawson family.
Buy the gun and not the story it is said, however I'm satisfied with the tales that accompanied this revolver and about its acquisition as related by its "original" civilian owner. I wrote 'em all down too.
The New Service of the early 20th century in good condition has a more brilliant blue finish than any Python and the military contract models were treated to the same degree of fine finish. The action is smoother and finer than a Python as well. Despite the obvious wear it is apparent how nicely Colt finished these revolvers. It was a partly cloudy November day when the photographs were taken out in the backyard as may be seen in the reflective surfaces.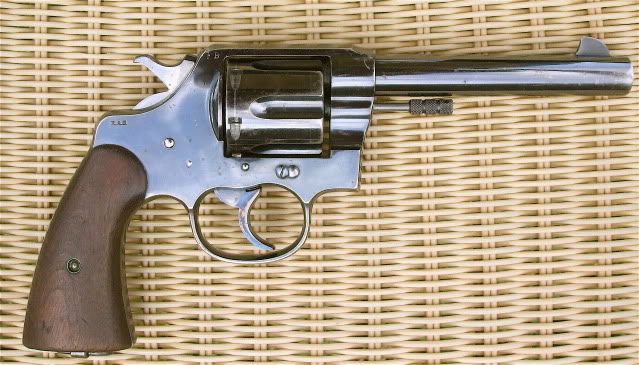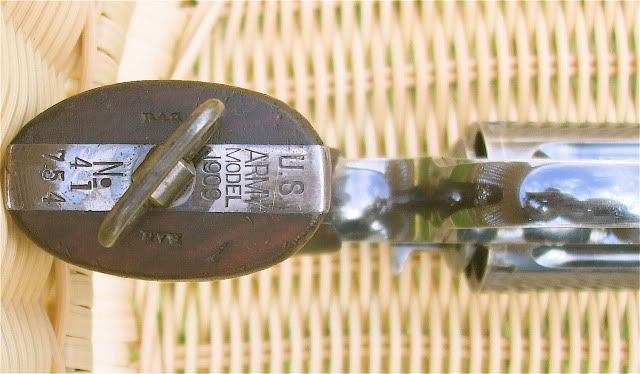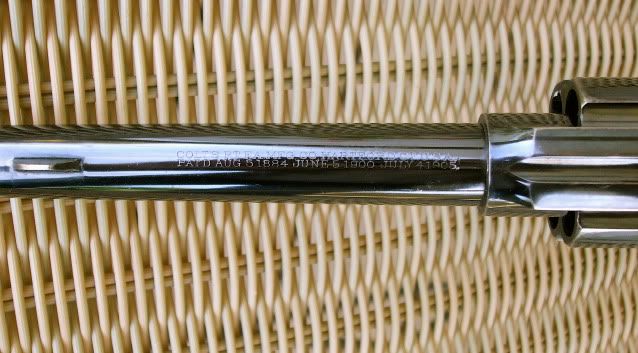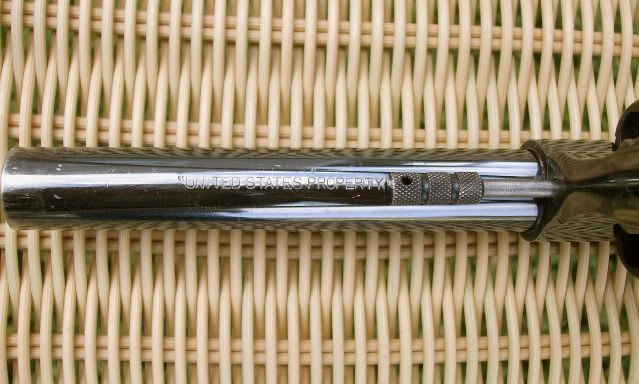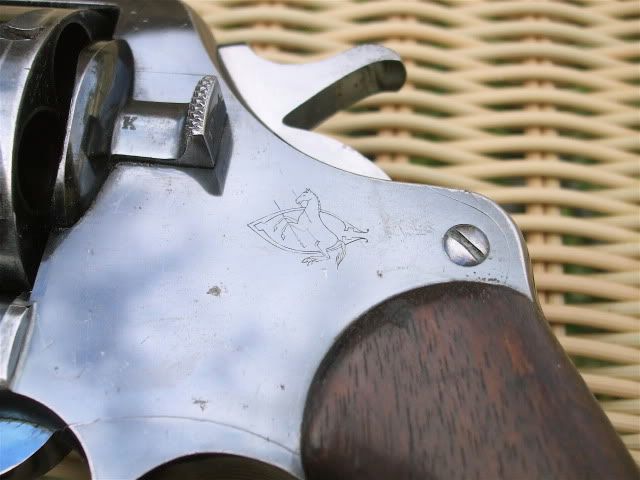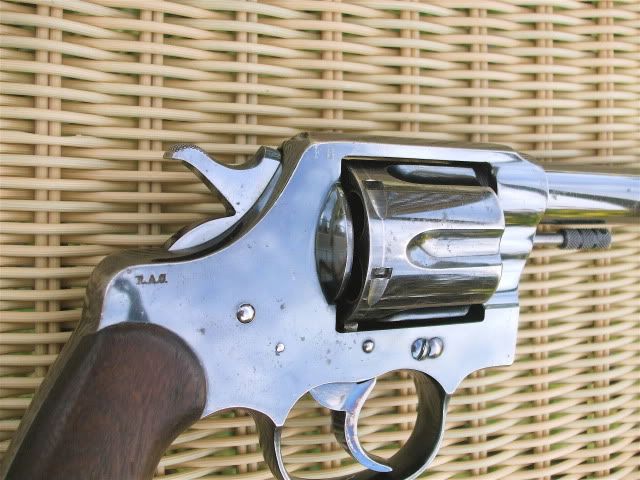 Oh yeah. My very favorite version of Colt's "Prancing Pony" Rampant Colt logo is the one found only on Colt production of the very early 20th century.