Discussion Starter
•
#1
•
I'm new to handguns, but did my best to adhere to what i've been shown/studied on proper techniques for weaver stance and grip. I'd like to say that it's working.
Before hitting the range tonight, i'd shot approx 100 rounds through my XD40sc, and felt quite inadequate in my shooting ability. I think the types of 'ranges' that i've shot at with my XD are partly to blame (local crowded outdoor range was uncomfortable, and deseret blasting at cans and bottles). Doug's Shoot'n Sports in Murray UT has a far better atmosphere to focus on what you are doing rather than going to the Lee Kay shooting range. This is my observation from a beginner point of view.
My first 50 rounds were garbage reloads, think economy ammo of the economy ammo ~ garbage. 6 out of the 50 didn't even fire, and several emitted large amounts of smoke. My next 100 rounds were the next level up in economy, and all 100 fired flawlessly. Doug's even charged me for the cheapest ammo on the slightly nicer stuff. I didn't mind the kind gesture.
Before this range time, the most that I had shot my XD40sc was aiming at plastic bottles etc. I found that to be quite disheartening because I couldn't always determine how far I was off target. When you notice that you're hitting the bottle 1-3 out of 10 rounds at 10 feet, you start to beat yourself up. But the shots on a paper taget help to gauge what's going on.
I shot targets ranging from 5 feet, to 20 feet. I did several rapid fires at 5 feet, and 10 feet; As well as slower-aimed shots at 5-20 feet. I found that even my rapid fire at 5 feet had all rounds on target, which boosts my confidence immensely. I noted that I have a tendancy to shoot a few inches low at 10 feet, which I think is partly due to muzzle flip. My buddy Brian noticed this same pattern with his new Sig Sauer P250 2-sum in the subcompact setup.
After 150 rounds I had zero fatigue in my wrist, but for some reason my forearm got a bit tired. Overall, a much needed confidence booster. Apparently I don't suck... Too bad.
I'm making it a weekly/bi-weekly ritual to hit the range each Tuesday since my wife is off at a dance class till late.
Here's 4 out of maybe 15 or so targets from the night.
5' - slow 12+1
5' - rapid 9+1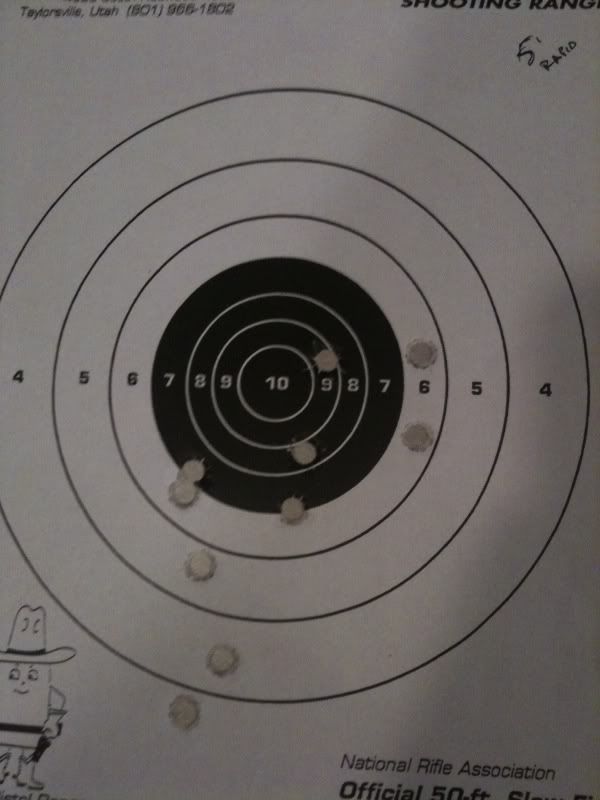 15' - slow 12+1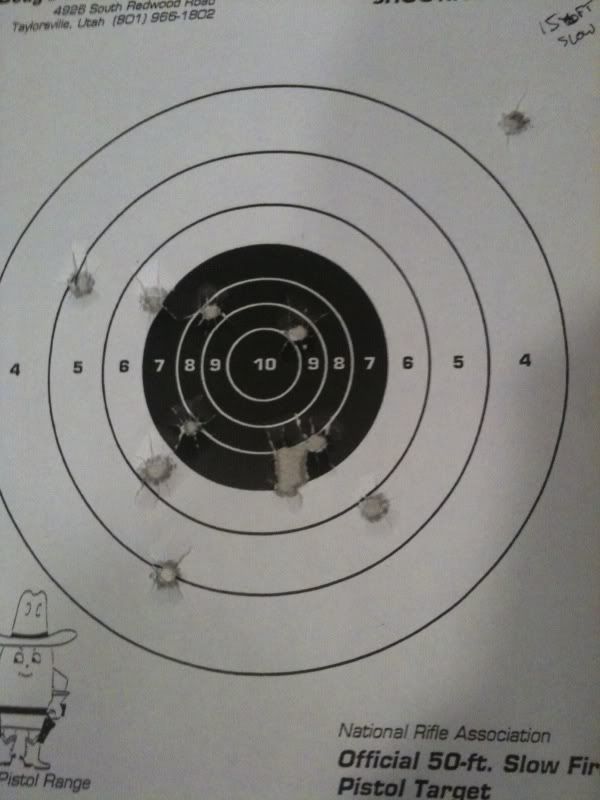 10' - slow 12+1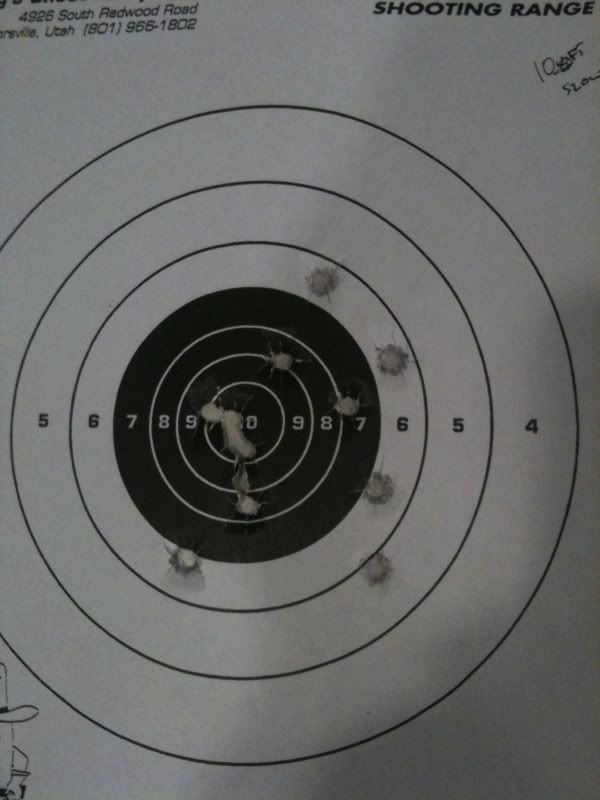 This is how I was gripping the firearm.. This is not me or my gun btw. I found this to be a comfortable way to grip the gun, and kept my thumb from hitting the slide lock..
-Jason