Discussion Starter
·
#1
·
Buying another Glock was certainly not a need for me at this point but getting another G17 in OD was something I wanted.........so I went down to see Clay Ausley at Fuquay Gun & Gold and purchased a new G17. Today was Glock Day at the store with a Glock factory Representative onsite to answer questions and greet customers. As luck would have it the Glock rep helping out today just happens to be a lovely and friendly young lady by the name of Megan West who is Glock's Commercial Sales Manager. As many in central NC already know FG&G is in my opinion the best firearms retail store in the state. Their selection, store layout, service, knowledge, and pricing are all first rate. Clay Ausley has put together a great staff that provide top tier customer service. I personally have been doing business with Clay for over 12 years and it has been exciting to see his business grow and expand. It has certainly been somewhat detrimental to my bank account I must say!
This morning was very busy even by Saturday standards in the store as you might imagine, with maybe 30-40 customers in the store while I was on site. The store was fully staffed and customers were busy handling firearms. Tommy and his Armorer crew were busy in the back installing Glock accessories in customers handguns. This visit to the store as is typical, I walked through the door and was greeted within 15 seconds by a member of the sales staff. I knew what I wanted of course so the entire transaction including paper work and checkout was completed in about 15 minutes. I had Tommy install Glock night sights ($65 installed) and a extended slide release ($15 installed). I usually do my Glock work myself but at the Glock Day special prices I just let them do it. I along with all Glock buyers received the Glock freebies, including hat, pistol case, sticker and key chain. It was another satisfying experience at Fuquay Gun & Gold.
Glock Day at Fuquay Gun & Gold.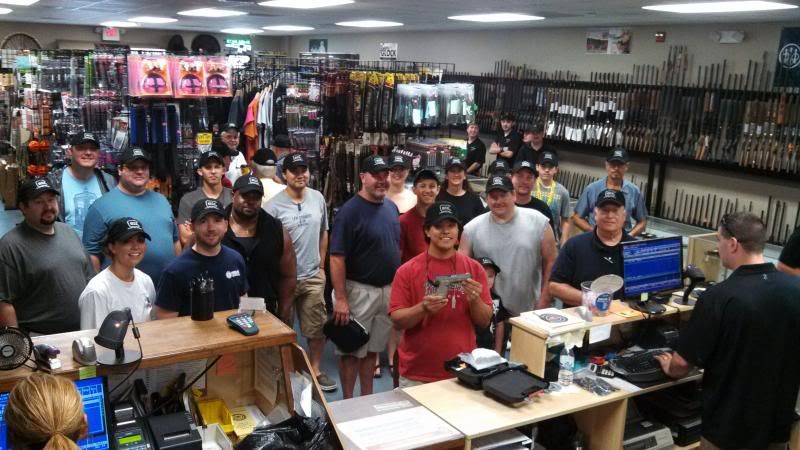 Me (Pirate) hamming it up with the lovely Glock Sales Manager.
More Glocks coming in.......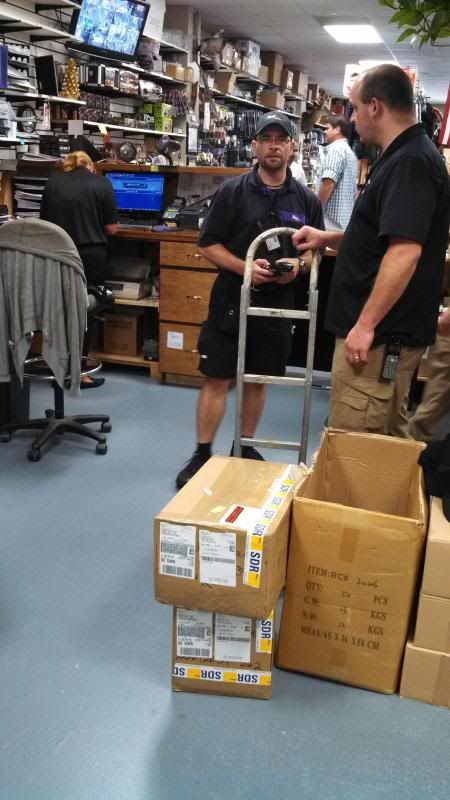 There are many others like it but this one is mine....