Discussion Starter
·
#1
·
Hello. Actually the "new" part in the title of the thread is not correct, but the results were essentially a "new" 1911 for me.
A few years ago, I got one of the very first Dan Wesson Patriots. It is a forged frame, adjustable sight, stainless steel pistol with what is marked a "match" barrel. (The mainspring housing was plastic, but I eventually replaced that with a standard grooved stainless one and the grip safety is actually E-nickled, but suits me fine.) Accuracy was described in the same way and the small test target seemed to indicate that it would group very well, certainly much better than I can shoot. Its slide has the external extractor. Though I have two extras in reserve, the one that's in the pistol seems to be doing just fine.
The pistol has proven utterly reliable once I got past a broken MIM magazine release, which I replaced with an Ed Brown. Just because I prefer them, I replaced the full-length guide rod with the regular GI and a stainless steel spring cap.
Around 2000 full-power loads have been fired through the gun w/o malfunction and over the chronograph, the barrel has proven exceptionally consistent and repeated grouping has demonstrated to me that the gun is capable of very fine accuracy. I've cleanly killed one or two whitetails with it using a handloaded 200-gr. XTP and Unique powder; cannot remember for sure.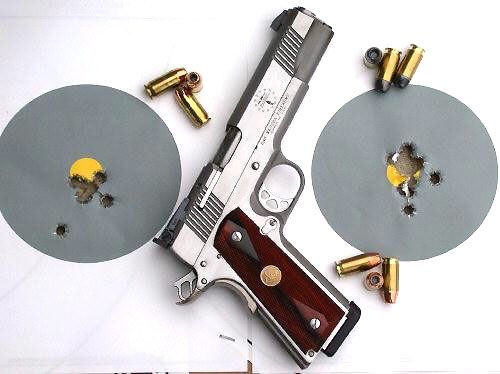 Here is the gun as it came from the factory other than the changes mentioned above. The trigger pull on this pistol was excellent out of the box.
But, I could
not
really "warm up" to the gun and the reasons are silly.
1. I absolutely detest forward slide serrations and hate it immensely (more than is rational) that I have them on my Kimber and STI Trojans, but that's the way they come.
2. The front sight is just a wee tad wider than I prefer and I don't care for its shape.
I also had a slide that I bought new from the estate of a deceased friend that was from Colt and w/o the Series 80 firing pin lock. The ejection port is not lowered or dished.
This slide coupled with various barrels and bushings had been tried on another pistol or two, but after trying them, I wound up putting them back in their original configurations.
This slide wouldn't go onto the DW frame w/o a great deal of effort. I was very lucky that the barrel and its bushing both provided a nice snug fit with very good lug engagement and firing pin indentions in the primer are very well centered.
Using what I'd learned when I "built" my Caspian 1911 pistols under the guidance and help from a couple of good friends who had taken Capt. Dave Sample's on-line Patriot Pistol class, I was able to fit the slide to the frame after about 30 minutes of hand-lapping.
Anyhow, here's the result:
I find the two-tone 1911 look not at all unpleasing. FWIW, the Wilson false checkering aluminum sheet that is secured by the grips has been removed not only on this gun, but my Springfield Armory Mil-Spec. The reason is that for me, even with the grips screwed down as tightly as I dare, it can move under recoil and in both cases wound up below the cutout for the front of the magazine floor plate. Checkering or stippling is better, but skateboard tape works fine too and doesn't slip. I will not use the Wilsons again.
The pistol looks pretty nice and the fit is with very, very little lateral or vertical play between the slide and frame. There is no play between the barrel and slide.
Looking nice is one thing, but would it function reliably and would the sights be "on."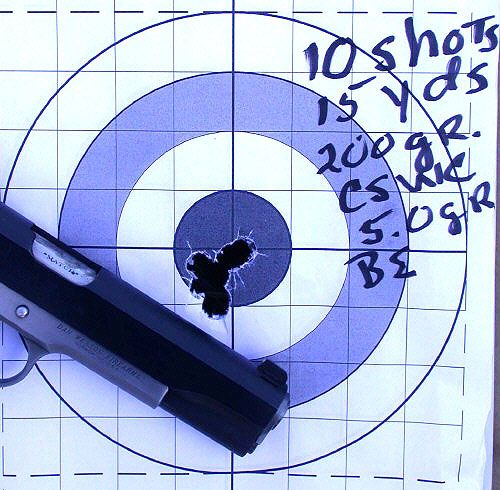 From a rest, I was able to get this group at 15 yards using a handload that has proven very accurate for me in several 1911 pattern pistols. This gets right at 890 ft/sec from this barrel with a standard deviation of but 10 ft/sec.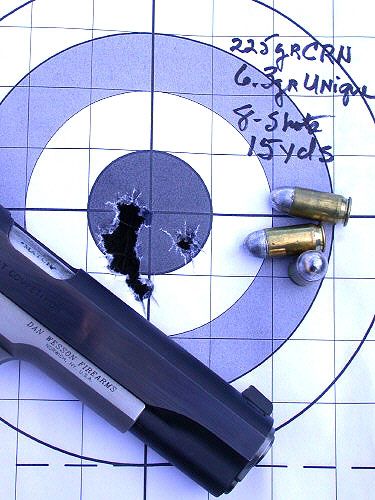 Though this load averages 876 ft/sec with a standard deviation of but 14 ft/sec, I simply couldn't get so nice a group as with the Precision 200-gr. CSWC/5.0-gr. Bullseye, but it will "do" for 99% of my perceived needs.
I also tried a few dozen handloaded 230-gr. Gold Dots and
a few shots of S&B 230-gr. FMJ as well as 3 magazines' worth of Winchester 230-gr. Ranger JHP.
The gun remained reliable and despite the non-lowered port, cases were cleanly & postively ejected with no denting of cases. I got lucky.
I would prefer that the POI be about 1/2 to 3/4" higher, but can live with what I have now or simply change the front sight.
The gun was put back into its factory configuration as it arrived from Dan Wesson and worked fine as well.
With so few rounds through the gun, I don't know that I yet trust it, but will find out in days to come. If it is, it will probably stay just about like it is with the Colt slide that's been lapped to this frame.
Not long was required to do this and I went ahead and slicked up the breech face with 1000 and then 2000 grit wet-to-dry sandpaper and a sanding stick as well as the angled lowered portion of the firing pin retaining plate and the inside bottom of the slide that rides over the top cartridge in the magazine as well. I checked the tension on the Colt extractor and it seems to be fine both to the "feel" and as was demonstrated in the fairly consistant ejection patterns in today's shooting.
So far, so good, but no prize yet; the gun will have to be shot lots more before I know anything for sure.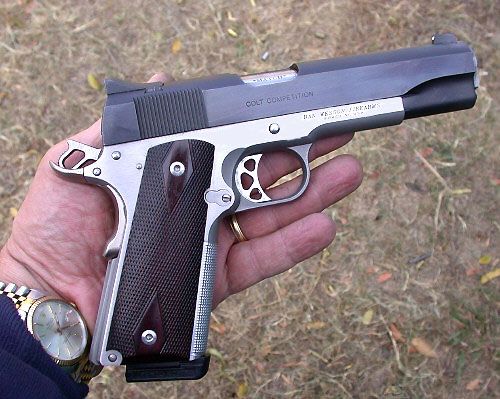 Other than the checkering strip, the gun will probably remain as it is shown here. Today's range session was not long and only two magazines were used: McCormick PowerMag and a Wilson 8-shot that has had Tripp's follower and spring installed. Both worked just fine.
Best.