Photography and firearms go together like bread and butter, but when some of us try to put the two together, it ends up more like peanut butter and relish. The cool, artistic photographs of guns mystify and bewilder us, and when we try to do it ourselves the results can be… less than desirable.
Well today, that is going to be fixed. Together, we are going to cover the basics so YOU can take nice photographs of YOUR guns, in your own home. Step by step, we will cover everything you need to know to make it happen. The only thing you need is a camera, (a cell phone will work), some patience, and a little creativity.
So with so many different elements to take into consideration, the most often asked question is "Where Do I start?" Well, I always start with what you know, the gun.
First, it should be clean and free of fingerprints, excess lubrication, dust, etc. Fingerprints will show up on almost any flat surface, so a good wipe down is very important. Alternative, you can photograph a gun dry, and use a lint free cloth to remove dust and such. Either works equally well. Once the gun is wiped down, it is best to minimize handling to prevent finger prints. If you are going to include any accessories such as holsters, ammo, magazines, etc. now is the time to wipe them down as well.
Once your gun is clean, before setting anything up, you want an idea of what you want your picture to look like. If you are not sure, the internet is an asset. I myself like to use pinterest. There are many photography boards related to firearms, providing a wealth of visual aid and creativity.
Once you have an idea of what you want your picture to look like, you can start assembling whatever you may need for the picture. What's that? You don't have a really cool piece of diamond plate Lexan? no problem. The focus of your picture is the gun, not the background. When picking a background to shoot against, try to pick something that compliments the gun in both design and color. Strong backgrounds, such as diagonal lines, multiple colors and defined shapes can easily overwhelm a picture. A simple background, such as a single color bed sheet, poster board, etc. keep a picture from looking to cluttered and lets the eye focus on what's important, the gun. I always keep large sheets of poster board on hand in Gray, White and Black. These three colors go with just about any color, and do not overwhelm the eyes. When selecting a background, it is important to use a piece of material that large enough to completely fill the background of your picture. A background that suddently ends is visually akward and distracting.
So what do you do when you have your background picked out? Set it up! There are 101 ways to set up a background, but nothing ever needs to be fancy. A large sheet of white poster board laid on a kitchen table is as simple as it gets. The larger the poster board, the more room you will have for experimenting with angles, so make it big. If you have to, you can tape the edges of multiple pieces of poster board together to make a big sheet. Other on hand materials work great too… Bed sheets, pillow cases, just keep in mind that textured materials will show in the picture.
Your gun is clean, the background is laid out, and it's time for pictures…...right? Not quite. The one thing element of photography that many struggle with is lighting. Lighting comes in many forms, both natural and un-natural. Light also has different qualities, that can have different effects on your picture. Understanding these qualities is important to know how to use them.
Light comes in two forms, hard and soft. Hard light makes dark shadows with defined edges, and soft light makes soft, light shadows with less defined edges. Luckily for us, natural light comes in both varieties. So how do you know what happens when? Easy! If the sun is shining you will have hard natural light. If it is overcast, you will have soft light. It's that easy!
The easiest light to find is natural light. The sun is free and gives off a lot of light. All you have to do is use it to your advantage.
So how do we use natural light to our advantage? Set everything up in front of a window, an open garage door, or take it outside, but be creative!!! There really are no set rules here. If the sun light is hitting it try it. I have shot guns on the hood of my car… if the light is right, use it! Luckily for us guns are generally small so something as simple as a coffee table or an end table works great around the house. Like I said, we are not doing fancy here. One think to keep in mind, sunlight is very powerful when the sun is high in the sky, but on an overcast day it is quite weak. You will have to compensate with camera settings, especially anytime you are using natural light indoors. In such cases, a tripod is your best friend. Sunlight is also directional… if you use a window, be sure the sun is coming through the window and not shining on the other side of the house. If your phone is your camera, learn what settings you camera phone has available. Most are very basic with few options. Because of this, I have found the best results with cell phones outside on a sunny day. Also, you can download a myriad of editing programs and play with your pictures right on your phone…..
Artificial light is the next most common form of lighting. Artificial lights come in every shape, size, and color. House lamps, car headlights, security lights, street lights, Photographers flashes, studio strobes…. The list is endless. Different light types have different qualities that all have an impact on your picture. So let's talk about a few.
Perhaps the most common is household lighting. We all have it, and it is easily available. Incandescent, fluorescent, CFL…even halogen. Each type has its pros and cons which are important to know. Halogen and incandescent bulbs are also known as hot bulbs, because they emit heat. **** Caution-Halogen bulbs get very hot !***** Because of this, be selective with what materials you use in front of them. A halogen bulb can soften kydex ….. I know from experience.
When thinking of household lighting, most of think of two types, Fluorescent and incandescent. Both can be used effectively but both have different characteristics that need to be considered. Incandescent has been around longer than most of us, and is found everywhere. It is relatively powerful, cheap and efficient. However, it is important to keep in mind that incandescent lighting gives off a yellow orange color cast, and it will affect your picture if not corrected either in the camera or in the computer. Fluorescent light bulbs on the other hand are quite weak, even though they are bright. Because of this it is important to stabilize your camera. Most household fluorescent lights are daylight balanced so they have similar characteristics of sunlight. They still tend to be a little on the blue side, and again this will need to be corrected in camera or in the computer.
After lighting comes setting up your background. I use an infinity sweep as I find it the simplest to use with minimal fuss. If you look at my pictures you will it is literally two pieces of poster board taped together, then taped to a wall and a small table so it has a gentle sweep in it, hence the infinity sweep. I like to start with my lighting placed at around a 45 degree angle above my subject, placed to the side so it creates light shadowing for depth. If you need more light, simply move the light source closer to your gun, and away if you need less light. You can change the visual impact by moving the light around and changing the angles of the shadows as well. As always, do not be afraid to experiment. If you are using a fixed light, obviously this is not going to be an option, but dont be afraid to experiment with angles by shooting from them.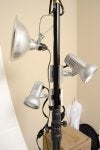 Once you have everything set up, and you have an idea of what you want the picture to look like, you can start shooting!!!! FINNAALLLYYYYY!!!!! Take a few shots, and really look at them. Look at the background and make sure it is clean and uncluttered. Are there random wires or weird stuff? Is there anything in the picture that shouldn't be there? Do you need to dust off the gun? Do you like how the lighting is in your picture? Do you like the shadows? Are any spots too bright? Too dark? Do you like the angle of the shot? This seems like a lot to worry about, and it is, but your pictures will be better for it. I always use a checklist, even after doing this for years, to make sure I don't forget any of these.
This is by no means an end all be all method of photographing your firearms. There are many more methods, this is just my method. Do not be afraid to experiment, try new things, and ask questions!! You can even PM me directly if you have a question, I would be happy to help. Also, I encourage everyone to share ideas here. We can all learn from each other !!!
My setup……..
Nikon D7000
A myriad of lenses
A simple infinity sweep table top set up
Various sources of light
Alien bee B800 strobe
Nikon SB700
My setup uses a simple wooden tray table, a wall, and two sheets of posterboards taped together. This works for 90% of my shooting. The lights shown are some simple lights I have picked up here and their. The large one is a brooder light I got at home depot , the two smaller ones I got at lowes on clearance.
As you can see there is nothing fancy about my setup. The whole thing cost less than 30 bucks, camera gear not included. This setup is great for items pistol sized or slightly larger. If you need to shoot larger items, you just make a bigger background! I have several small tables I set side by side for shooting long guns and such.
For those who have camera equipment, fancy is still not required. My most used lense is my Nikon 24-120 F4…but a standard 18-55mm kit lens will do just fine. One thing I look for is the ability to focus close for those up close detail shots, but it is not a requirement for good pictures.
Some shots i have done using this simple set up....
A note on shiny guns, such as nickel plated or polished stainless steel. These are very difficult to photograph due to the reflections where light hits the metal, also known as hotspots. I have found a light tent works best for me to minimize hotspots. This is a simply constructed device in which you place your shiny object. The light tent requires lighting from each side to light the object evently, but this is how it minimizes hot spots. There are many tutorials on how to build and use a light tent, as well as tutorials on photographing shiny objects. It can be frustrating, but the rewards are worth it. Also, I prefer sources of continuous light so I can see exactly how they are affecting my image before I even take a picture. Keep inmind though, these hot spots can be used to effectively add character to your image, as they really make rounded edges pop when they are not too large or intrusive.