Lighting is one of the key elements to taking a good photograph. Since most of the pictures I was going to be taking for Black Dawn (hence the logo) were going to be on a white background, I wanted to keep shadows to a minimum. You still want to have some shadows to make the object "connected" and not appear to be floating but I didn't want them to stand out and detract from the product either.
Although taking pictures outside on an overcast day is very desirable and gives great results, I needed something more along the lines of studio lighting offering more consistency along with the ability to leaving it set up. After much research, I decided to use a fluorescent bulb due to the heat output being minimal since they were going to be on for an extended time. I also made sure it was rated at 6500k and I use two different wattage equivalencies of 100 and 60 watt. My lighting fixtures are nothing more than the clamp on lights with the reflective aluminum dome using the larger ones for the 100 watt and a couple of smaller ones for the 60 watts. The link below is similar to the bulbs I use and I get them, along with the clamp on lights, at the local home improvement store.
Amazon.com : GE Lighting 89095 Energy Smart Spiral CFL 23-Watt (100-watt replacement) 1600-Lumen T3 Spiral Light Bulb with Medium Base, 1-Pack : Compact Fluorescent Bulbs : Home Improvement
Bayco SL-300 8.5 Inch Clamp Light with Aluminum Reflector - Amazon.com
Now I needed a way to diffuse the lighting in order to make it softer which meant I had to build some type of light box. The problem was that unlike handguns where the setup can be minimal, doing a full size rifle or shotgun offers a completely different and unique challenge. What I did was to use ½" PVC pipe along with elbow and T connectors to build the frame. The T connectors offer that extra stability and I place these halfway on each side as well as the back to offer support. Since I am placing these on two 72" x 30" resin type fold up tables, I need that extra support. You need to use two tables for long guns as it gives you the extra depth for your pictures while offering greater flexibility for posing your gun. The really nice thing about his setup is it breaks down easily plus you can have different sizes of PVC cut to fabricate smaller boxes depending on the need. In hindsight, I should have gone with a larger diameter PVC as with all the lights I use, it is a little flimsy.
The only thing left was to get some type of diffusing material that was large enough to cover this "box" and for that, I used a 200 thread count king sized white flat bed sheet. I use cheap plastic clamps to clip the sheet to the PVC frame in order to keep the sheet taut. Due to the size of the box, placing the lights on the outside to diffuse the lights didn't give the result I was hoping for so I place these on the inside and "bounce" the lighting off the sheet or the background to give me a softer lighting for a majority of my shots. Here's a picture of my setup with a white background:
The nice thing about the different size of lights is I can go for a more focused, spotlight type effect especially just utilizing the smaller lights. Many times, I will hold a light in my hand to help illuminate any unnecessary dark spots (especially when the gun is laying flat) or maybe directed toward a specific part of the gun I'm wishing to highlight. Although I don't have any nickel plated guns, I would imagine the indirect lighting with one spotlight to highlight the shine would give great results. Here's some with nothing more than adjusting the lights I had turned on.
This is one of my early attempts at photography before truly understanding camera settings and lighting. I did this one with nothing more than a flashlight and had I better understood camera settings at the time, I think it would have came out nicer.
This thread I posted when I bought a Galco holster/belt that shows pictures using my light set up:
http://www.defensivecarry.com/forum/defensive-carry-holsters-carry-options/169781-new-galco-rig-pictorial-review-extremely-picture-heavy.html
Understanding lighting makes a big difference in the appearance of your photograph. Here's two identical setups showing a dramatic contrast in technique. The first one is one of my early photos and using nothing more then an overhead fluorescent shop light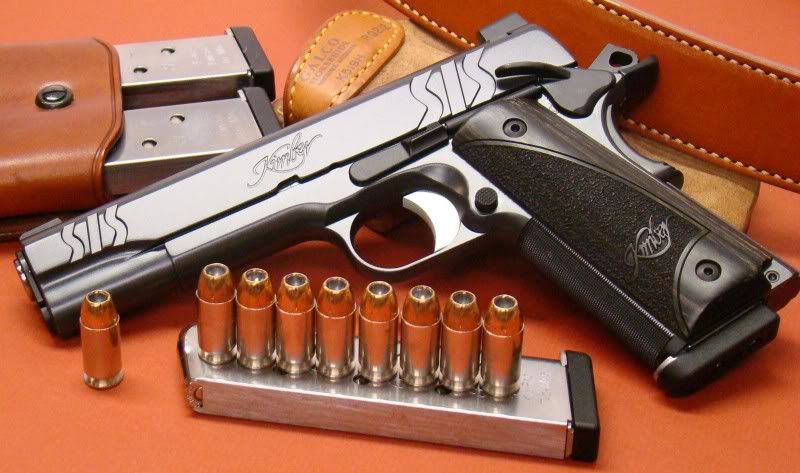 This one was taken more recently after having a better understanding:
Many photographers use gel filters for their lights to give the image a different color effect and you see that lot with gun photography. Although I don't have any gels, I have experimented a little with different colored bulbs but not with any diligence. Still, the effect was decent and there is potential to make an interesting photo. I read on one blog where the photographer would buy a roll of colored cellophane at hobby stores to get the same effect of gels. Obviously, you wouldn't want that right next to your light source but it wouldn't take much to make it work. I think I'll look into that too as that's what helps keep things interesting.
That's what's great with lighting and this set up is you can change the dynamics of the photo with nothing more changing to a different style of bulb or utilizing cheap, translucent material. Sometimes, you just have to think outside the light box 