Discussion Starter
•
#1
•
I bought these Navidrex mahogany slim fit grips from Brownells a few months ago and never installed them because I didn't like the look of the light Mahogany and felt the fully checkered grips might present a possible problem with my shirt clinging/hanging on and printing because of the abrasive/sticky nature of the checkering. Just didn't think they would be "conceal carry friendly. Of course, these thoughts only occurred to me after they were delivered. They only cost $17.80, so I didn't consider them a great monetary loss.
Here's a photo of them before I shaved them down....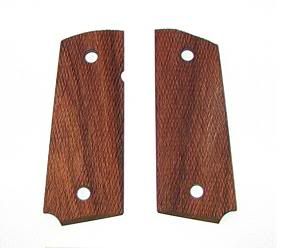 It occurred to me that they would probably work great for my needs if only they were smooth and a bit darker. So I decided to un-checker the little boogers with the hope that I wouldn't ruin them. I used a course round file to shave them down and then used my dremel to sand and level the surface. I finished the sanding by using fine sand paper (1000 grit) and a little elbow grease to give them a slick level furface.
I stained them in a darker mohogany let them dry overnight and them gave them a thin coat of Tru-Oil stock finish. Total labor time from start to finish was about 1.5 hours.
The photos do not capture the nice deep golden browns and the reddish grain these grips bestow. They are trully beautiful. I'm real happy with the end result and I don't think I'll be buying replacement grips anytime soon.
Here's a photo of the finished product....