Discussion Starter
·
#1
·
One of the glaring holes in my otherwise stupid collection was some sort of AK in 5.45x39, a hole that's been filled for a few days by a new Arsenal SLR-105. A ban-era closeout with no muzzle device (oh, what a shame) showed up on one of our distributor's lists for a very reasonable price, and it had to come home with me.
It didn't help I'd stashed some 5.45 a while back and had some of the Russian 5N7 ammo on order.
Fit and finish are what I expect from an Arsenal - generally better than a regular AK but not perfect. The 105 comes with a stamped receiver, NATO-length furniture, and is a bit lighter and handier than the other AKs I have in the house. What amazed me was how little the loaded Bulgarian 30 round polymer or EG Bakelite magazines actually weighed when loaded - it was like going from a M14 mag and then some to an airsoft.
I did a quick range evaluation after purchase. 200 rounds through three shooters without a hitch, engaging steel to 200m. It hit what it was aimed at, and rapid fire was extremely pleasant.
Recoil was on par with a regular AK, partly due to the reduced weight of the weapon and the rest partly due to the increased velocity of the shell. Cyclic rate was substantially higher than the regular AKM-pattern guns I've fired, but after a couple shots it was a lot more controllable than a 7.62x39.
Trigger on the Arsenal was actually good. Not AK good, or battle rifle good, but genuinely, actually, compared to anything you stack it against good. Smooth, crisp, and very light. Bump firing this thing is criminally simple. ;0
As a negative, the ammo availability for 5.45 has always been extremely poor in the US - so it's one of those guns you stock up for and only shoot it when you can replace what you're going to use. Once this current plinking case is done, I probably won't shoot it with any regularity, but I don't really shoot AKs with much regularity anyway. I just wanted one this time for purely irrational reasons.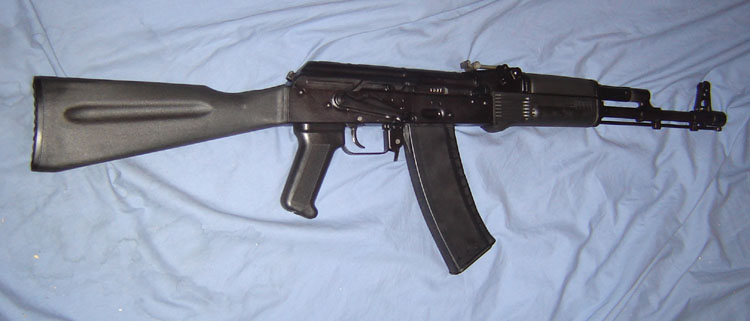 or, as I prefer it, with the traditional Bakelites:
That pretty well finishes my 'traditional AK' collection, and I can go back to buying pointless things like more Sigs.