Discussion Starter
·
#1
·
Shot my second match on Sunday, moved up a slot to 5th place overall, shooting a 95.66. I still came in first place and most accurate in the CDP division (5 shooters in CDP this match).
This was my first time really working from concealment and it wasn't as bad as I thought it was going to be, I had ideas that it was going to be slower than slow, but I still had good times.
I bought a non-shootmefirst
vest, it's a Carhartt
and only has TWO outside pockets, it was available in tall sizes to hang a little lower to cover my OWB and mag carrier and I can actually wear it without looking like someone on Safari or a photographer. It may be a little heavy come summer time, but will make a great spring/winter/fall vest.
The stages were definitely interesting with one COF taking place inside a wooden mock up of a HMMWV (Humm-Vee), here were some swingers that gave me some trouble and one stage where we started of in simulated fight for retention where we had to stab the target, go from condition 3 to 1 (simulating gun out of battery) and engage the other targets.
We had someone taking pictures during some of the stages and it's nice to be able to see what you're doing after the fact to find and correct issues, I for one need to work on my grip and close up that gap between my thumbs.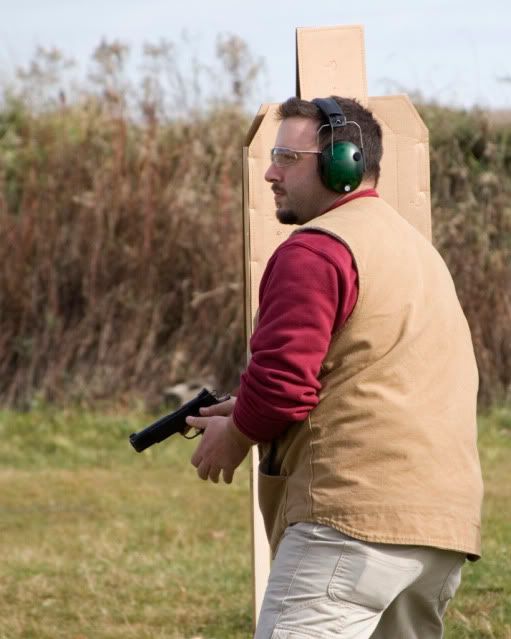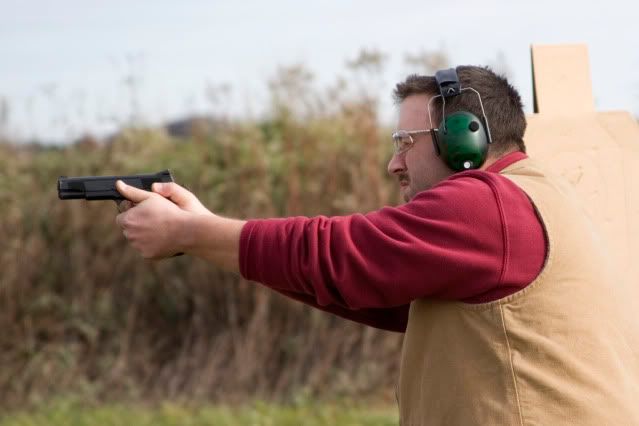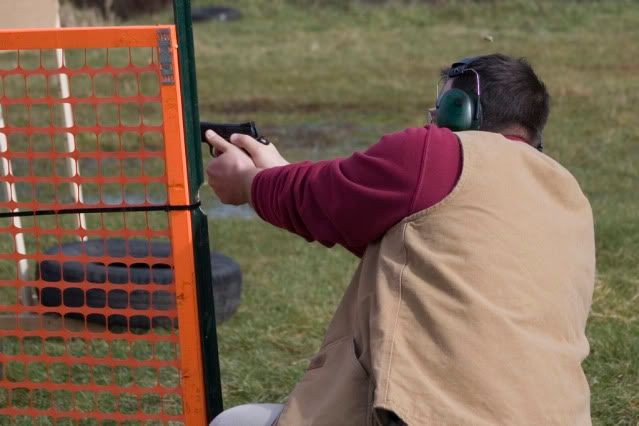 And no,
my 1911
did not jam, break, or pour sugar in my gas tank during the match.
I got to try out my new Wilson ETMs and they worked flawlessly as Wilson mags always have for me, the added numbers on the tubes are nice when you have to start a stage with less than a full mag, but when you only have 8 rounds to start with it's not that hard, but always nice to be sure you're starting with the correct amount of ammunition on tap.
To make things even better, one of the other shooters there is lending my his Kimber .22 Conversion kit to try out and I'll probably buy it off him so I can practice more on the plate rack without burning thorough piles of .45ACP.
If you've ever wanted to shoot IDPA, go out and try it, it's a lot of fun. All you need is gun that meets IDPA criteria, 3 mags, holster, mag carrier, and a cover garment and you're good to go. If you want to find a club in your area and view the rule book, you can find them at the
IDPA website
.