Discussion Starter
•
#1
•
I first posted this over on Colt Forum, figuring I'd get banned for heresy. Hasn't happened yet, but it's not a popular thread there for sure. Not so much from kinds of comments generated as from lack of comments. Gotta protect the aura so it would seem.
So we'll try it here.
Obviously the market feels the Python is everything it's cracked up to be.
I've been a somewhat skeptical Python owner since day one A decent used 1978 vintage 6-inch blued Python came to roost here in about 2006, before the time when used Python prices increased significantly. It's nice and it's amazingly accurate when I'm in a shooting humor. In a single side-by-side test one afternoon against the other Colt .357 Magnum model I have on hand, the Python shot the tightest group by a very small margin, with both revolvers using the same carefully prepared handload. Different handloads, especially tailored for each revolver and shot on different days might reflect opposite results.
The Python is not my favorite Colt revolver model by a long shot. To me it is somewhat over styled. I am not in favor of full lugs, caring neither for their looks nor their clumsy front heavy handling nature. The vent rib is wretched excess in my opinion. Only the very early Pythons have a truly inspiring polish job. The rest made in more recent times seem excessively polished to me. The factory stocks on the later Pythons are frequently pretty plain and their finish brittle and not too durable.
Python craftsmanship lore aside, special burnishing balls passed through bores and all of that, are the Pythons' actions truly more finely crafted than many of their stable mates which were built on the same frame size? I've handled, cycled, and shot a goodly number of Pythons over the years and this 1978 gun feels exactly the same as other Pythons in good condition.
But, there is the Colt 3 5 7 that also roosts in the safe here. It gives up nothing to the Python in action feel. It got whipped by a nose that day both were out for the test, but it's very accurate in its own right. Then there are the Officers Model Match revolvers. They have actions to die for, again not taking a back seat to the Python in this regard. They are more accurate than my Python has been with my best efforts. Their styling appeals to me more than the Python does.
A die hard traditional Smith & Wesson fan, I also enjoy owning the Colts. I use all of 'em too. None are safe queen grade. I'm going to experience them and not save them unused in the safe. I like owning and using the Python, but am not really feeling the special qualities attributed to it. Some of the other Colt models are just as nice and are currently more attainable for less cash outlay.
Has the Python reputation long been a source of a bit of sensationalized leg pulling? Is the Python craftsmanship truly unique? Maybe I'm missing out on something. Y'all can probably straighten me out here with a bit of education.
No need for labeling for it is what it is.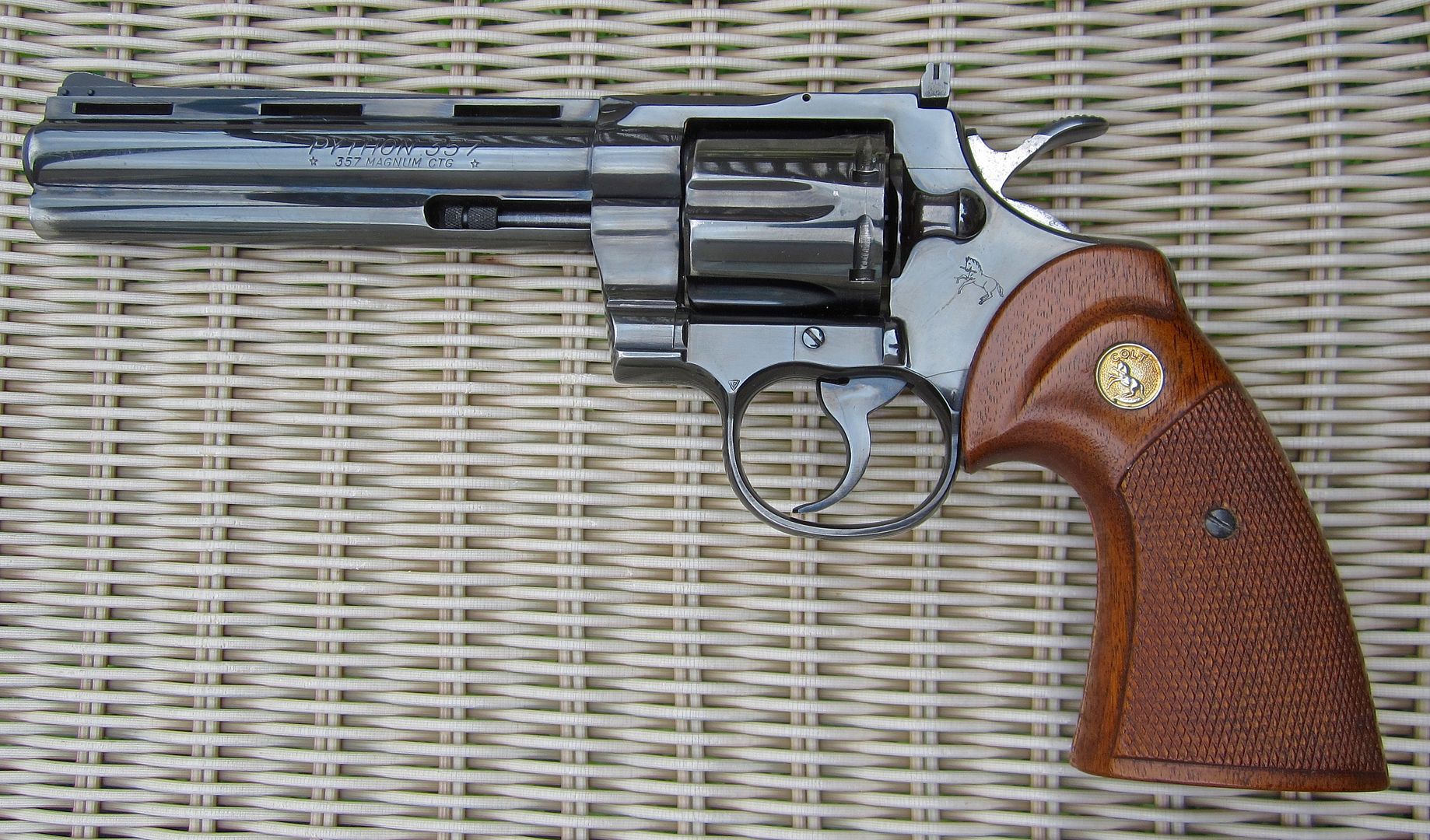 Colt Officers Model Match revolvers with the Colt 3 5 7, the Python's premium immediate predecessor seen at bottom. Supplanted within two years by the Python, the 3 5 7 was allowed to die on the vine after a small eight-year production run. 1953-1961 RIP.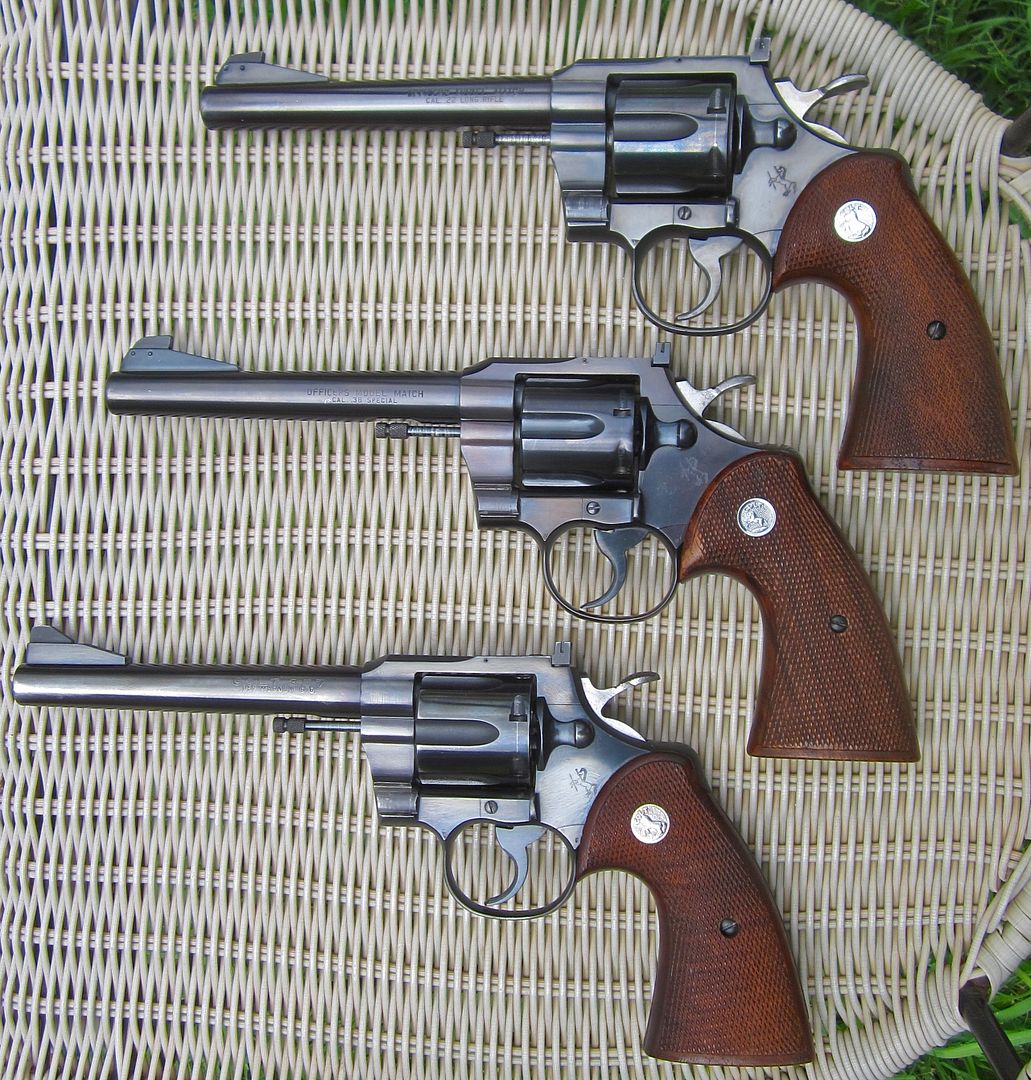 Still think Smith & Wessons are best, the Model 27 being the finest .357 Magnum ever in my book with the Model 19 or its stainless steel counterpart the Model 66 being first rate in every way.