Discussion Starter
·
#1
·
Hello. I went out to the firing range today without note paper, camera, or any project or agenda other than to have some fun with my 4" S&W Model 10 HB. I picked this up "right" at a gunshow a while back and while I'd have preferred the traditional square butt, I've learned to live with the round one on this service size K-frame.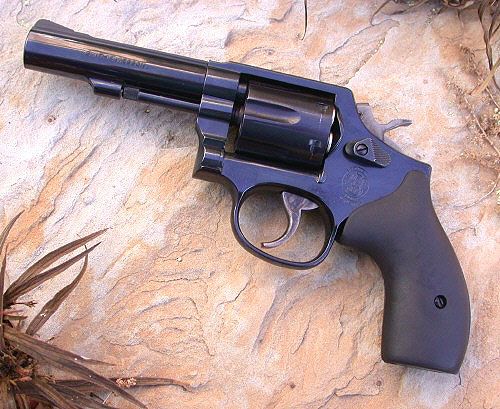 In this picture it has the inexpensive nylon "Hideout" grips on it and they work fine, but I put it back in original condition with the S&W round butt service stocks and a Tyler grip adapter before shooting it today.
Shooting the revolver double-action, I did mostly 15 and 25 yard slow-fire double-action shooting.
I did fire 12 shots rapid-fire at 5 and 7 yards, but then fired the remaining 88 shots in slow, deliberate double-action. Groups at 25 yards were about the size of a grown man's clenched fist which was good enough for me.
Speaking only for myself, I find that just shooting for fun is as relaxing as can be. Though I do think we should always work for proper grip, sight picture, trigger control, etc, sometimes it is just plain fun to go out and shoot for fun.
I think that sometimes I get too wrapped around the axle worrying about shooting the
tightest
groups possible or having a split time below this or that...and it seems to take the fun out of it after 30 + years. Now and then I suggest that we all just go and while we should try to do our best so that bad habits are not ingrained, just plain have fun.
Best.