Discussion Starter
·
#1
·
Well - always interesting to see what happens with KB's. I posted these on THR some while back but thought folks here might appreciate seeing what can happen!!! I am gonna cheat and paste the original as it is -
Note - this is NOT a Glock failure!! (per se)
~~~~~~~~~~~~~~~~~~~~~~~~~~~~~~~~~~~~~~~~~~~~~~~
I have been meaning to borrow this and take pics of it for ages. It belongs to a buddy who is president of my IDPA club. It happened in 2003 and was due to a squib not being detected during a frenzied course of fire. Glock 22 in .40 S&W cal ... and you'll see this is a KKM barrel - which he had bought so as to use his lead bullet reloads. No crit' of the barrel - nothing would have handled this I expect.
It was assumed to be just an FTF or similar and - with a rapid slide rack, another round was loaded and fired!! The two bullets had an argument and pressures became, shall we say - excessive!! The mag was forcibly ejected from the grip - but the slide stayed put!! It had to be cut off tho to get at this barrel. The frame is intact and Bill's hand suffered very little - quite remarkable.... in fact no injuries to him or those nearby - just an addition to the laundry inventory!
I had not seen quite such a burst and so thought it well useful to get pics and show them, at last.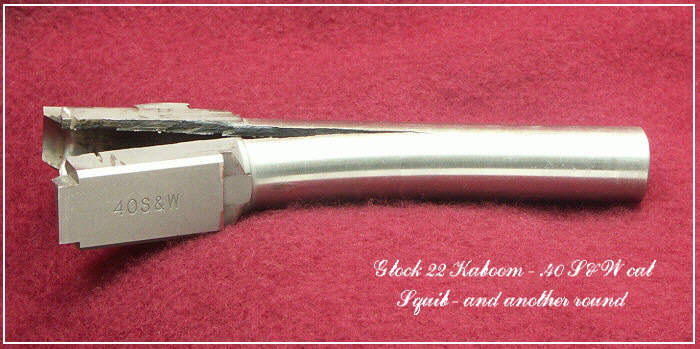 ~~~~~~~~~~~~~~~~~~~~~~~~~~~~~~~~~~~~~~~~~~~~~~~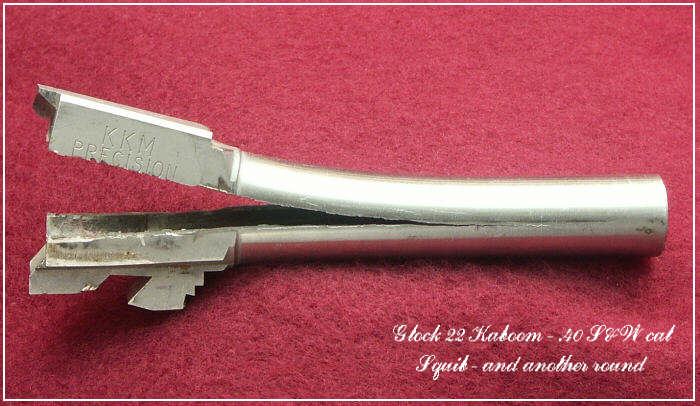 ~~~~~~~~~~~~~~~~~~~~~~~~~~~~~~~~~~~~~~~~~~~~~~~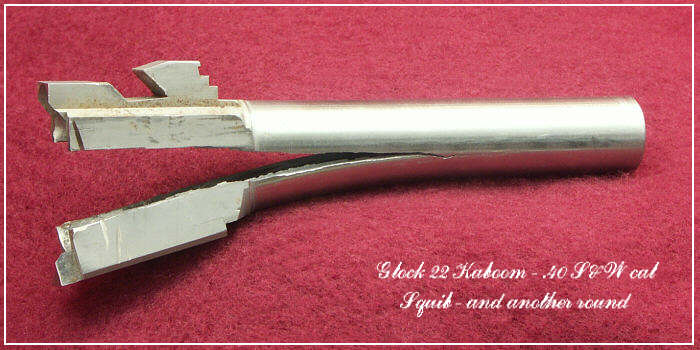 ~~~~~~~~~~~~~~~~~~~~~~~~~~~~~~~~~~~~~~~~~~~~~~~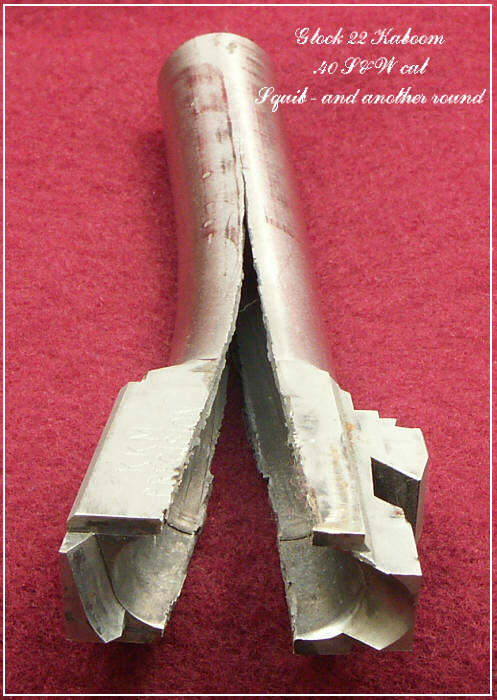 ~~~~~~~~~~~~~~~~~~~~~~~~~~~~~~~~~~~~~~~~~~~~~~~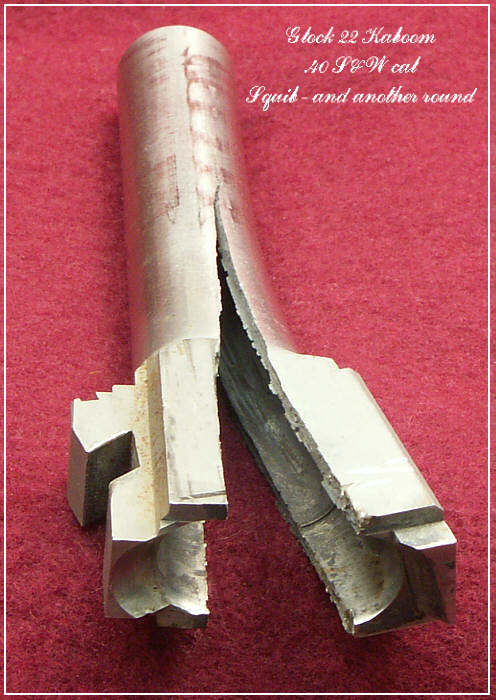 ~~~~~~~~~~~~~~~~~~~~~~~~~~~~~~~~~~~~~~~~~~~~~~~