Discussion Starter
·
#1
·
I have been looking for a vertical kydex pouch for my SureFire 6P. There are many on the market, such Comp-Tac, Blade-Tech, etc, which all look solid. However, none of them had all the attributes I wanted.
What I was looking for was something very trim in profile, and no more material than necessary used to do its job. I also wanted kydex. Now I am a huge fan of leather, and use it almost exclusively for my guns, but for mag pouches and accessories, I like the simplicity and speed that kydex offers. Also, I was looking for a belt clip attachment.
I liked the simple clip loop that Comp-Tac offers, but I didn't care for tension screws to the side, which adds to it's width and takes up more real estate on my belt. The same goes for many other kydex flashlight pouches. Some others, such as the one offered by SureFire, seems too bulky in that the belt tunnel loops is very thick, and it also is pretty long vertically, as it is made to fit belts of various widths. I just wanted something similar to what many fine leather holster makers offer, except in kydex, with a clip on belt loop. I feel that tension screws are not necessary on a flashlight carrier. Just make it fit so that it can be drawn very quickly, yet is just snug enough not to allow the light to fall out on its own. It's just a flashlight after all. Shouldn't be too hard to do right?
After much searching, I got a hold of Richard Schaefer of Custom Carry Concepts (
Home Page
). After telling him what I would like, he made this, which I received today...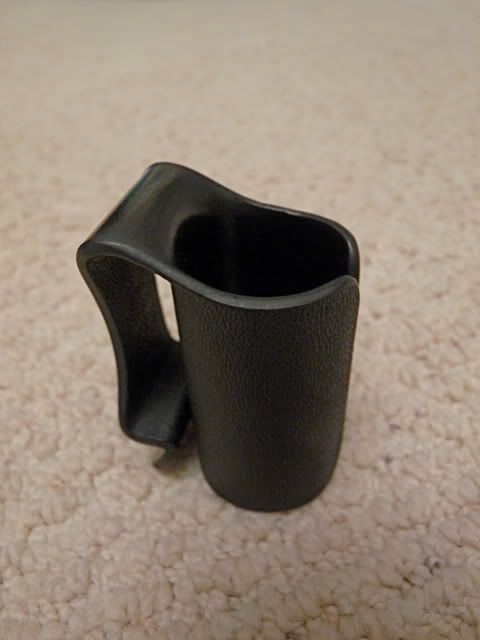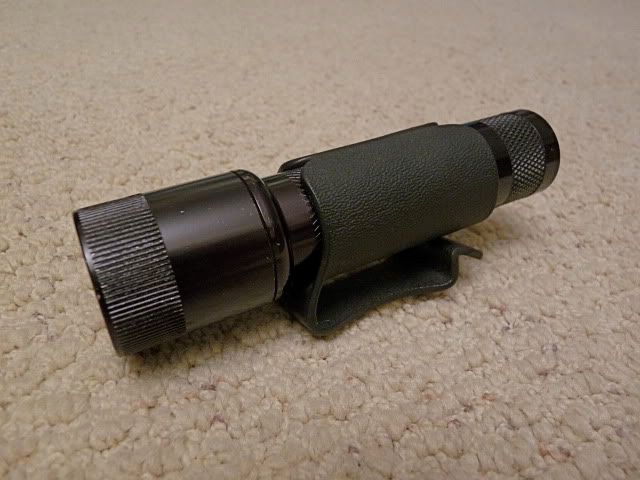 Finish and overall quality is excellent. The fit is spot on too. The light almost "clicks" when you insert it in, yet it is super fast to draw from.
I don't have any firsthand experience with Rich's gun holsters, but thus far, his accessory products seem like a real winner, especially for the money.