Discussion Starter
•
#1
•
A few day ago I posted a request for infomation that would hopefully lead me to a custom leather crasftsman to have a SH built for my LWS32.
Therein replied Mark Garrity of
http://garritysgunleather.com
and stated he would be glad to undertake the project and for me to contact him for specifics. To be fair with Mark, he recommended that I try Pocket Carry, but when I contacted him via email, I made it very clear to him that carrying by SH was the only means of concealment I was seeking.
I contacted Mark via email and gave him specifics as to the design I was seeking. It was very apparent that Mr. Garrity had immence expertise in Holster making as he made a few recommendations that would enhance SH concealibility that I hadn't even considered.
Basically, the SH will be made of a leather holster dyed black and heavily boned to the LWS32. The straps will be made of thin adjustable Suede. This SH wil not have any tie-downs as it is meant to be worn under a dress/casual shirt. Therefore, Mark is designing the SH to have the Strap loop around my right arm and reconnect to the holster. I will be made without a Mag Pouch.
Here's a photo of the Belt Slide (OWB) Holster he makes for our Seecamps. He owns a Seecamp that he pocket carries regularly. He will use his Seecamp in the making of my SH.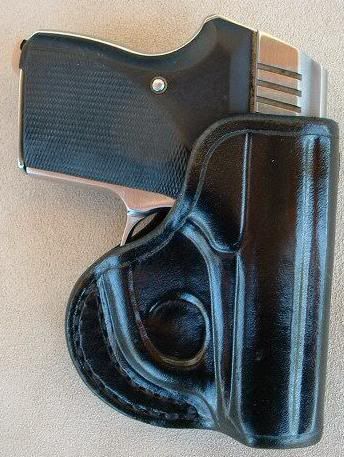 One last thing. Mark stated he likes doing one-of-a-kind custom design work to a client's specs. He also stated that it may take a little longer to make due to the design and pattern lay-out, but he promised I'd get what I want.!!
The price........$79.55 shipped!
.