Since acquiring my Ultra Carry a few months ago, I'd been looking for a Conceal Carry OWB Holster that was extremely high-riding and one that also incorporated a 20 degree forward cant. Deep boning was a feature the holster also had to have in order to keep the holster size down to a minimum.
Milt Sparks makes a great holster called "60TK" that has these features, but Sparks will not make that holster for a 3" barreled 1911. Mitch Rosen makes a great holster he calls the 5JR (I had one built for my HK USPc45) , but it doesn't ride high enough for my personal needs.
Then I started reading all the great reviews posted on this Forum regarding Eric Larsen d/b/a hbeleatherworks.com. I visited his site and saw all the different models he offers. It's quite obvious this Man really takes his craft seriously. His holsters are amoung some of the best built rigs I've ever seen. The craftmanship is impeccable.
I decided to email Mr. Larsen a photo illustrating the current holster I use with my UC,..and a photoshopped/prototype design I seeked. Mr. Larsen promptly replied and informed me that he would be willing to undertake the project. The holster will also have a 20 degree forward cant, which he highly recommended.
In the attached photo, the prototype holster he's going to build is featured on the left. On the right, is the holster I currently use. He's going to build this holster and ship it to me at a cost that's under $100.00. Not to shabby for a custom built holster that will last a lifetime!!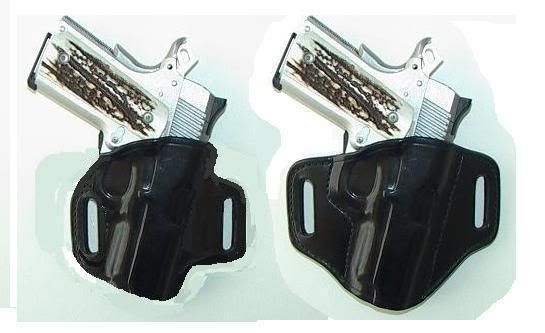 It was a real pleasure speaking with him today. Seemed like he could read my mind when we began to discuss all the reasoning behind the design I wanted.
BTW, Mr. Larsen had an emergency yesterday involving his son battling a nasty case of bronchitis . In the middle of all this, he took his time and answered all my questions . Trully a great guy!!!

His son is in our prayers for a speedy, healthy recovery!!