Discussion Starter
·
#1
·
Surprise! It's a confound bow, errr compound - I think there's a difference :ticking: actually I'm not sure at this point.
And notice those little curly cues on the string - those are just some of the silencers.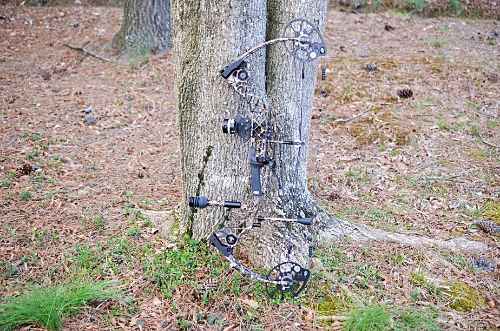 This is a Matthews Monster Chill dual cam bow. I do like it! I shot about 7 bows repeatedly at the shop, Benton's Shooting Supply in little ol Benton, TN. I shot them so much, I couldn't shoot the bow I bought for a week, just waiting on the muscle and ligament strain to heal. I'm serious - I was sore - I didn't know we had 'bow' muscles - I can tell you mine got rudely awakened :blink:
Anyway, the dual cam Chill felt smoothest and lightest, not that 'lightest' is a term I'd use for a bow pull, more like less, "Wow, that's a hard pull"; So, for a given arrow velocity and something like 85% let off this was my pick. It was close though, I also liked the Matthews Creed - a single cam bow.
I don't know who comes up with the names, but I believe I would have picked a better name, like High Velocity, Magnum Velocity, Lightning, Devastator, Eliminator, Dual Death (dual cam, get it??? Hmmm, well maybe the 'death' goes a bit too far). Fast Shot, etc. Anyway, they didn't ask me...
Here's the sighting contraption. It turns out, range is significantly more critical with a bow than a firearm because of the low velocities involved, so you have to determine your range - can you say expensive range finder? Then you dial that range into the wheel that's parallel to the bow and it adjusts the elevation of the sight automatically compensating for arrow drop :blink:
Ok, I'm gonna show you some shooting pics (don't have any vids, YET), but take it easy on me, I've only had this thing 2 weeks and this is only the third time I've shot it.
Here's six shots from 11 yards (I only have six arrows). This was part of the sighting in; I was aiming at the "dot" to the right of the group: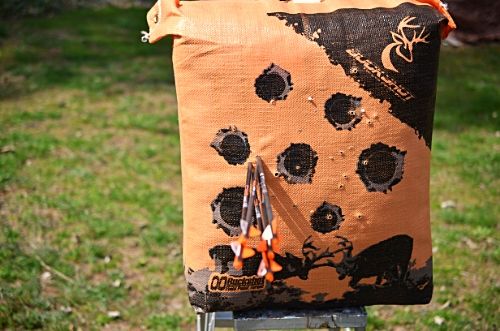 A little closer looks like this:
Well, in the above pic, the sight needed some windage, I dialed some in and shot this:
Hmmm, I guess that'll do....and just for brag, here's a closer look:
Ok, back the target up to 18 yards:
Well, I guess that isn't too bad, two arrows are touching, a third almost touching, a fourth in the 'dot', but hmmm, I'm gonna have to check those two arrows to the left - I'm sure there's something wrong with them - could they be left-handed arrows??? :image035:
So, I'm learning about 'bow torque' and how to avoid it, etc. That's why I said I have a confound bow. I'm still working hard on bow torque - I have to eliminate that!!!
I'm liking this archery stuff a lot - hmmm, now if I could just find someone willing to let me shoot an apple off their head; ahhh, but I bet that's been done before.