Discussion Starter
•
#1
•
Hello. I recently received a prototype holster from Mark Garrity of Garrity's Gunleather. He had named it the "Triskel" from ancient Celtic as the holster is capable of being used in three different carry modes: IWB, OWB, and "tuckable IWB."
This unlined holster appears to be very well made and I think it would last for years of daily wear.
The Triskel I received was for the 9mm Hi Power. Fit was perfect and the holster was superbly molded to the gun. I'm sure it will be available for other makes, including the 1911.
The holster can be adapted to IWB or OWB by removing two allen head screws and sliding out the kydex clips, reversing the clip's "hook" directions and then reinserting and securing. The whole process is quite quick and not complicated.
The clips allow for not only drop adjustment, but canting as well.
I found the holster extremely comfortable as an IWB holster and my initial concerns that it was possibly too large to work as such were completely without merit. This is one of the most comfortable IWB holsters I've ever tried.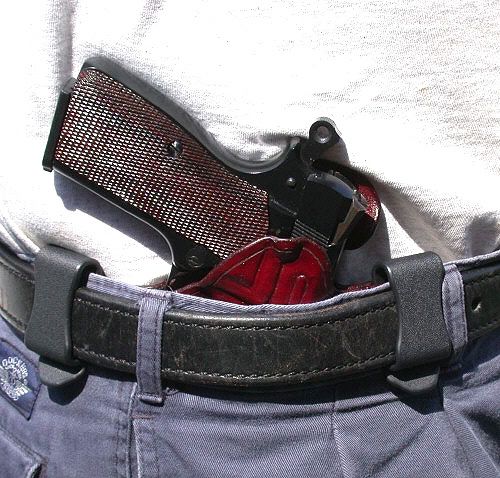 The Triskel is quite comfortable and allows for relatively easy concealment of larger handguns.
I think the holster is not only well made, but a good idea as well. If you do too, or are interested in a more detailed report, the link below will provide one. Contact information for Mark Garrity is also provided as he would be the man to answer questions on pricing, availability, and other options.
http://www.hipowersandhandguns.com/Triskel from Garrity.htm
Best.