Discussion Starter
·
#1
·
Sorry I haven't been on in a while. I wanted to share a story with you from about 2 weeks ago at a 9-12 Tea Party in Greensburg, PA. I had an idea of OCing my M4 much like the gentleman in Arizona did at an Obama rally. It is legal to carry loaded rifles on your person in pubic in PA. So I took advantage of that right and took my M4 to this Tea Party.
I saw a few other OCers (handguns only), and there was a handful of people like 6 or 7 with M4's, M16's etc... one guy had an M1 Garand, another had a Mauser. We had the opportunity to educate some folks who were concealing. They asked us about why we were open carrying. We explained the lack of a law prohibiting OC of firearms in the state, therefore it is default legal. We also explained that no where on a PA license to carry firearms does it say concealed. We handed out flyers explaining the legalities of carry in the state. One guy even said "well hell, if I had known that..." as he pulled his shirt up over his concealed handgun.
We managed to educate MANY firearm owners about the correct laws in the state, and corrected a lot of the misinformation out there that some sheriffs like to spread.
Anyway... on with the pictures:
I'm in the red shirt.
A few of us from PAFOA.
Me with my bible and gun :smile:
One of the booths at the rally.
Clinging to guns and religion... don't worry, my M4 was not pointed at their feet.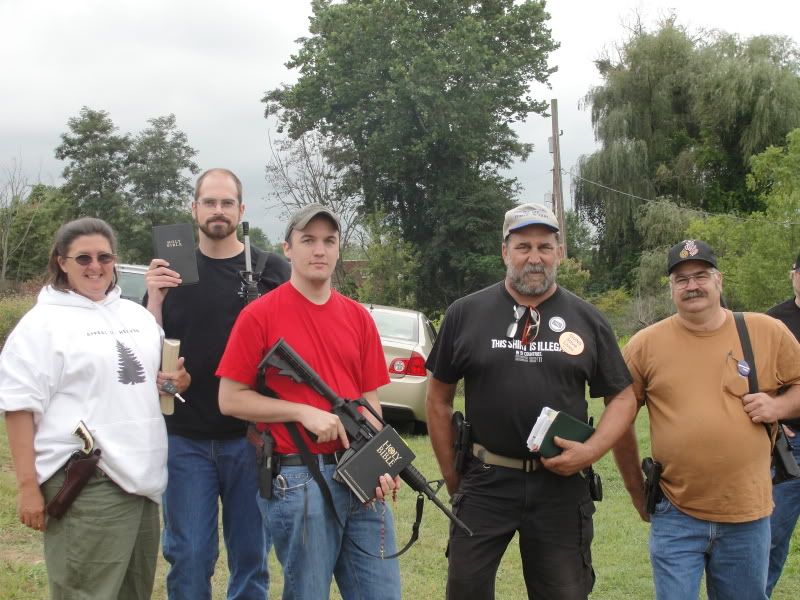 And last, but not least... me, my shirt, and my 1911 on my 3 after the event getting ready to head off for lunch.