Discussion Starter
·
#1
·
Howdy all. I've had my Springfield GI since Oct. and haven't had any problems with it at all. This weekend, that changed.
I fired 100 rounds out of the pistol and had 4 FTE with 2 different magazines that have worked great in the past. Ammo was 50 rounds, CCI Blazer Brass and 50 rounds American Eagle.
The first two malfunctions occured with a Chip McCormick mag, but they were not what I wopuld consider mag related jams. The cartridge was fired, but was still held in place by the extractor with the case mouth jammed against the barrel at an angle. About 5 shotsd later, I had the same incident happen again.
I changed over to a Kimber magazine and resumed firing. It happened twice more.
I tried to recreate what I saw after I got back home so I could take a picture. This is about as close to what I saw as I could get.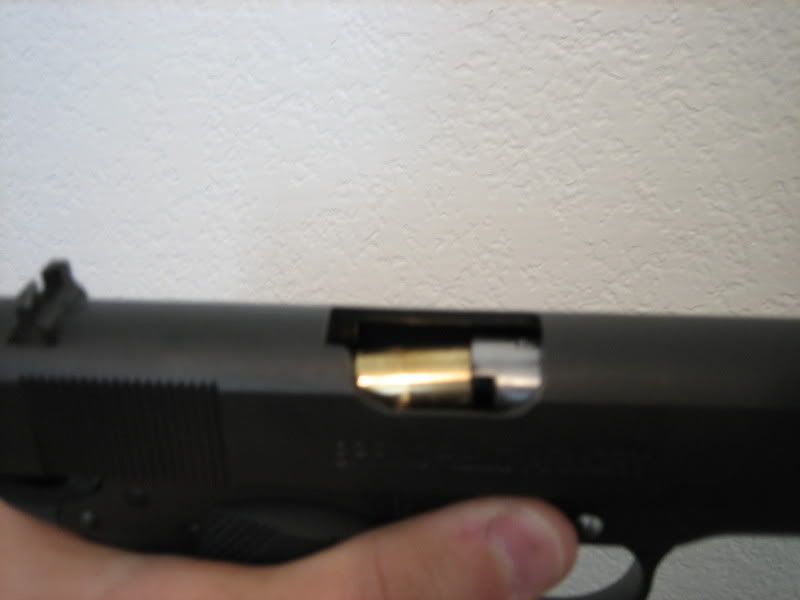 My extractor has been tuned, and I don't really think it has anything to do with the magazines. There is no shock buffer, and the recoil spring is the factory original. I spoke to my gunsmith and he wants to spend 5 minutes polishing the chamber since he believes the casing may be getting hung up while leaving the barrel.
I was shooting good groups in a weaver stance, and do not believe it was limp wristing.
Do ya'll have any ideas?
Jake