Discussion Starter
·
#1
·
I described in another thread that after shooting a number of heavy loads in my shotguns, and shooting a lot with my compound bow, I had some physical issues.
Well, you'll probably question my mental state for this, but I did it all again. Aside from loving to shoot shotguns, it looks like a hog hunt is pretty much a go. A date has been finalized, the players are in place, and I want to make the most of the opportunity, so I'm taking several firearms to try on the feral pigs, one being a shotgun.
No doubt shotguns are limited range guns even with slugs. There are four issues with rifled shotgun slugs, one they are not as accurate as a rifle at any range. Two, slugs have an awful coefficient of drag which causes them to lose velocity rapidly, and hence energy. Three, because of the slow initial velocity (compared to a rifle round) the slug trajectory looks somewhat like a rainbow, hence holdover, etc. becomes pretty critical as range varies, and fourth they do have a bit of recoil.
In light of that, there are some things that can help level the playing field a bit - higher velocity with lighter slugs. That brings us to why I'm shooting some of these higher power loads - higher muzzle velocity, flatter trajectory, and still plenty of down range energy.
I've been testing several slug loads:
1- Royal Star 2-3/4", 1-1/8 oz @ 1410 fps
2- Remington Slugger 2-3/4", 1 oz @ 1560 fps
3- Federal 2-3/4", 1 oz @ 1610 fps
4- Winchester 2-3/4", 1-1/8 oz @ 1625 fps
5- Federal Magnum 2-3/4", 1-1/4 oz @ 1520 fps
6- Winchester 3", 1 oz @ 1760 fps
7- Remington 3", 1 oz @ 1760 fps
Number 4, 6, & 7 have become my prime candidates. But I shot 5 each (35 rounds total) of these in the order listed above. This very list is what I shot followed by some compound bow shooting, that caused some issues with my neck, shoulder, etc. And Saturday, I shot it all again, this time in one of the lightest shotguns on the market - a Benelli M2 Tactical. I had a Bushnell TRS-25 red dot sight on the receiver rail and it was dialed in.
I was at the range by 9:15 Saturday morning and started shooting in the order listed above. I shot everything off hand at 23 yards - limit of the indoor range (the outdoor range is just to crowded on weekends and you have to keep asking for a cold range to change targets etc.).
The best accuracy came from the Remington 1 oz @ 1760 fps. Four shots were touching, actually overlapping, and the fifth was about an inch from the group - undoutedly a faulty round, right?
I don't have the pic with me, but I'll post it this evening or tomorrow.
I had a quick bite and by 1:00 pm, I was helping a colleague remove a huge broken limb from a huge oak tree - that's me on the right side of the trunk just past the two lower big limbs. I love to climb trees!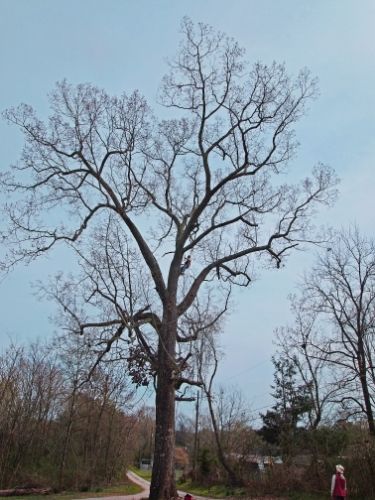 Then we went to my secretary's house and cut down a dead tree for her ( a small one).
Then Sunday, it was just too beautiful not to shoot my bow, so I did that; I have 10 arrows and shot them twice for 20 total.
The odd thing is, other than some expected soreness from stretching and straining 60 feet up in a tree, I had no ill effects from the shotgunning or bow shooting.
I'm wondering if my initial problem was due to shooting a couple or so of rounds with the gun improperly mounted or something. And, I'm sure shooting my bow about 60 times was a heavy contributor too.
So, I'm very encouraged that I can shoot some heavy loads in my shotgun without creating problems. Either that or I have to do a 60 foot climb up a tree afterwards .