Discussion Starter
·
#1
·
There are two major reasons for the large interest of palm sized impact weapons these days, one is the prohibition of carrying edged weapons and firearms these days in many places, and the second is the growing understanding that it is a logical part of a layered defense to have something in your hand when the attack happens that will allow you to damage your attacker and then transition to another weapon or get away.
These tools provide for two basic needs, one is causing a concentration of force on a small surface area, which increases trauma. Two, is that they provide a fist load with or without weight that can add impact or just protection to your hand during impact. One that is usually missing in either the capability or training with the particular tools is the ability to manipulate the balance of your attacker and being able to use these items for blood chokes. As a rule impact weapons seek bone, edged weapons seek flesh. Primary targets for these impact tools are the head, face, neck, chest, elbows, and hands. Depending on the situation you may be able to strike the knees and feet. Once you have the back, you may also be able to access the spine but this should be avoided unless it is a deadly force situation, and you better be able to articulate why you struck them in the spine instead of running away.
We have a logical process for the selection of tools- Selection, Carry, Deployment, and Use. While writing the article, I am going to be critical from several points. First of all, I believe all citizens should be able to carry what ever they want to protect them from evil. As a retired police officer, I have to say that I seldom ran across good guys and more knucklehead vs knucklehead. This is what develops an officer's beliefs over times. So, I will also be looking at these tools from a law enforcement point of view. The last point of view I will use is the one that I believe eludes too many people, that is the one of a trainer who knows what he can do has a base line for what his "average" student can do. Even more important though is the perspective of how altercations happen and the mindset and skills needed to use a contact distance weapon during a real life attack.
Much to the chagrin of some other martial types, I maintain the belief based on my training, experience, and research that people are much more likely to swing (hammer fist), than jab (straight punch) in the majority of circumstances. Because of this, even impact weapons that provide for more than one type of strike should have the hammer fist as the primary.
I have grouped the following tools into classes-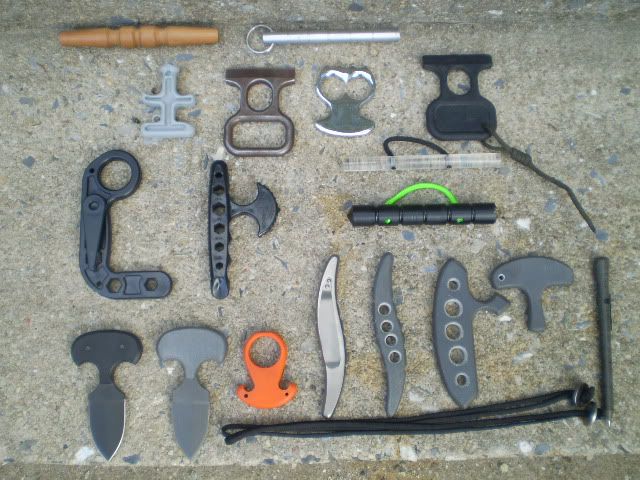 Top row- Traditional wooden (Yawara Bo, palm stick, Kubaton, whatever) and an aluminum version made by Phil Smith of Phil Smith Knives. These are oldies but goodies, most people are used to seeing these with keys on them. I am not a fan of this, but instead prefer it to be hung on the waistband with a piece of parachute cord. The primary strike with Kubatons is a hammer fist and it allows for manipulation and chokes because of its protrusions on both sides of your hand. These items may get a second look from LE and security. I prefer the ones made by Alpha Innovations since they are made in the US, and are easily replaceable if confiscated, lost, or stolen.
Second row- Comtech Stinger, this is a devastating tool if you are in a position to throw a straight punch. The two things I don't like is that it does not provide for a hammer fist strike, and that it does not resemble anything that has a legitimate non SD purpose. Next are two examples of Executive Ice Scrapers. The first is metal and the second one plastic produced by Choate Machine & Tool. I got the metal one just because I thought it was neat. The plastic one is actually a great little ice scraper and busts up ice real well. I would never carry one on my person but every vehicle I have has one in the door pocket. If you happen to have one in your hand when attacked, they would make some devastating gashes in flesh. This would also turn this into an edged weapon. The two-finger knuck between the ice scrapers is exactly the type of thing that will set bells off to any cop or security guard with a drop of common sense.
Third row- Travel Wrench and Saf T Wrench by Kelly Worden. Both of these are excellent tools and Kelly had a course based on them. Besides being used as weapons, they actually can be used as a wrench. They both provide for the hammer fist strike and the Saf T Wrench provides for concentrated jabs as well. One thing I like about Kelly's stuff is that it has information on it. To me this shows professional responsibility. Most people will have never seen these before and they might attract attention. Next are my favorites, Koppos sticks. A Koppo stick is basically a Kubaton with a piece of rope that you loop your two middle fingers through. This means that you can handle kids, groceries, or whatever without dropping it. When someone grabs us, we are hardwired to open up our hands to grab them back. This can lead to dropped tools or a lack of being able to use your strong hand for control. With the Koppo this is not an issue. I also have no problem drawing and firing most pistols with the Koppo in my hand. These are my favorite control tools. An inexpensive bombproof version is available from Alpha Innovations.
Fourth row-This row is reserved for what Jones Bros Knives calls Party Favors. By now you can see which ones provide for hammer fists, straight punches, and control options. Also pictured in the PRK (*****) Police Rescue Knife designed by me and made by Barry Jones. Here is the steel version next to the Garolite version. Garolite is what Barry makes most of the toys out of. Most of this stuff, except for the stylus, will attract unwanted attention. The items on the bottom are Barry's Cuff Links. Ti disks connected with a piece of paracord. You wear these as a bracelet. I hope I don't have to explain what they are used for.
Final thoughts, most people will be well served with any cylindrical item about 5-6 inches long and between ¼ and ½ in diameter. Hmm, that sounds like just about "any" pen or small flashlight. This should be your primary tool clipped to your shirt, and then you can sprinkle other things around based on your needs, training, and environment.