Discussion Starter
·
#1
·
Not certain it's for me.
I've been pocket carrying a Smith & Wesson Shield for two weeks, exclusive of totin' any other pistola. I've carried it in cargo shorts, jeans, Dockers, and dress trousers. Have worn it all day on a daily basis. Have spent a day gathering a load of stuff while helping my parents on their move. Have walked about town. Have driven 6 hours in one day. Have worn it to church. Don't know if it's the holster or the size or configuration of the pistol but I'm not too fond of this method of carry for the Shield.
I was in Brownfield, Texas back in late February and was running around town with my brother-in-law, hitting all the shooting establishments. The first one we went to was a local feed store which happened to deal in guns and have a smattering of shooting supplies and ammunition. Pretty reasonable they were too. Picked up a dab of ammo, including some Remington .30 Carbine soft points for a really nice price. Also picked up a 10/22 magazine and a pocket holster for the Shield as I'd been intending to try totin' the pistol that way.
After that weekend, I went off and left my sack of goodies in my sister's front bedroom. By the time I was able to retrieve them months later, my brother-in-law had even sweetened the sack with additional 10/22 magazines. I may take that sack back and leave it again just to see if anything else appears.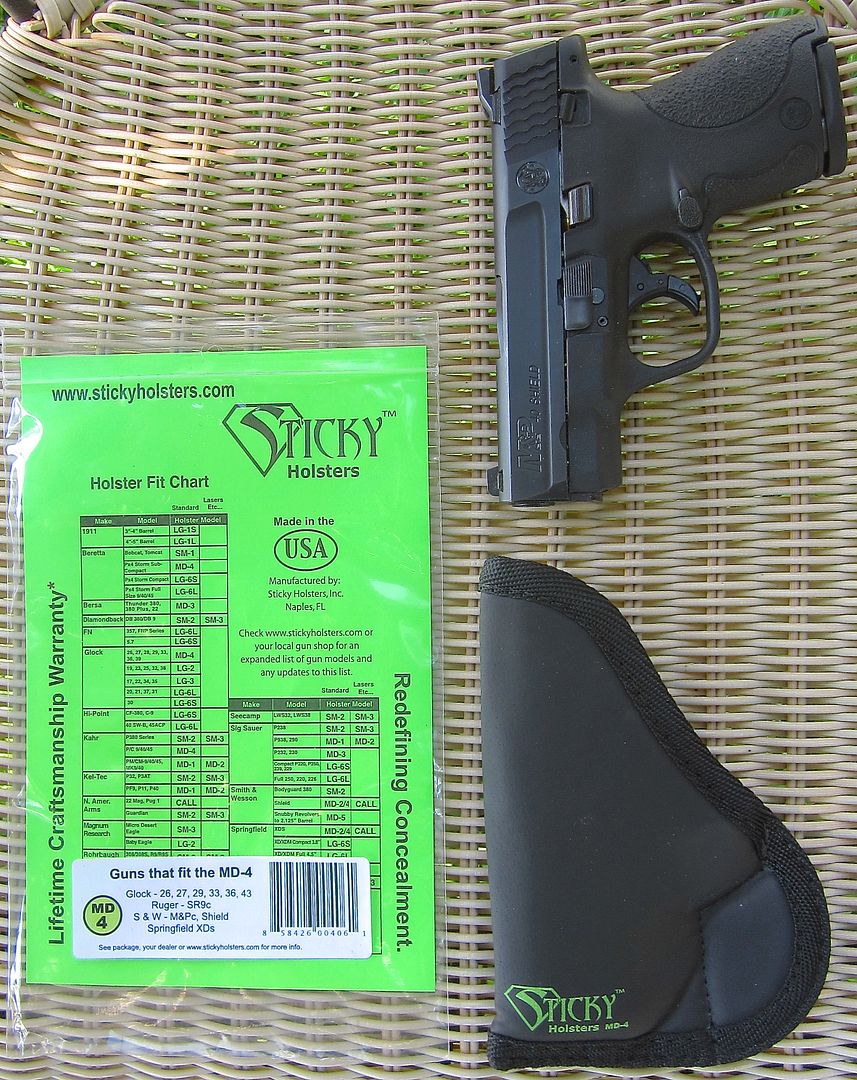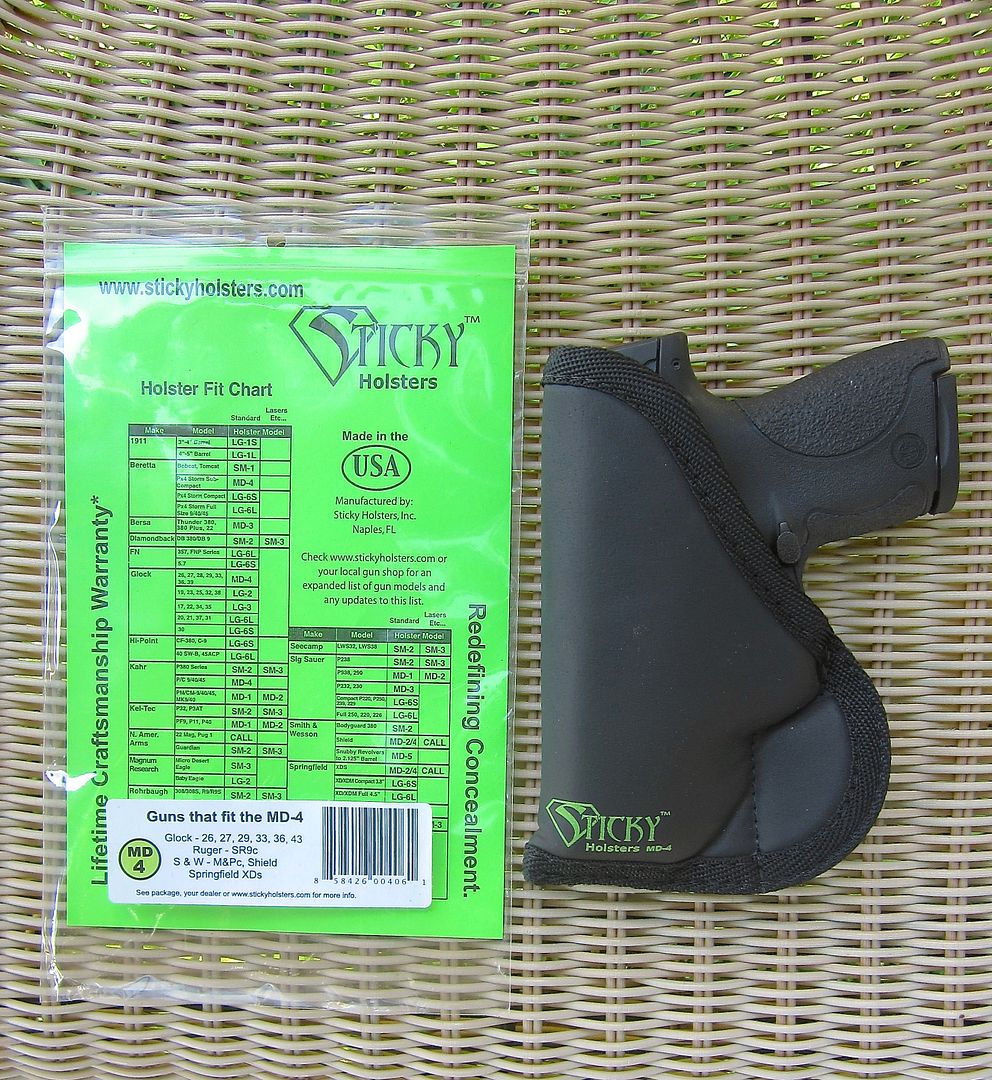 The pocket holster is a Sticky Holster.
What is a Sticky Holster?
Priced similarly to other brands of pocket holsters, it was available so I thought to try it for the Shield pocket carry experiment.
As the name implies, this holster is fairly sticky, both inside and out. To this point I've only employed De Santis Nemesis holsters for pocket carrying a Colt Detective Special, Smith & Wesson J-Frames, and a Kel Tec P3AT. This Sticky Holster grips the inside pocket material more securely than do my well-worn Nemesis holsters which are still perfectly adequate. The Sticky Holster also secures the Shield more than those Nemesis holsters hang onto those other handguns.
The issue I have with pocket-carrying the Shield is that it is awkward to draw. Can't say for certain for I've not tried the Shield with any other brand of pocket holster, but this seems to be due to the pistol's size rather than the "stickiness" of the carry holster.
I'm not a huge fan of pocket carry, but it has its place. The Nemesis holsters all grip the inside of the pocket perfectly well, allowing one to draw a handgun effectively. This Shield is clumsy in the pocket, at least any pocket I have with which to try it in. It's a poor one-handed proposition to extract the Shield from the pocket. I tried some practice draws just before posting this and they were like earlier practice draws, dreadful. Best bet is to grasp the right front pocket with the left hand, anchoring the holster, then draw the Shield with the right hand. Anything attempted one-handed gets fumbl-y. A technique of grasping the pistol and pulling to the rear as one pulls it up and out helps but not enough to give one a warm fuzzy feeling about the draw.
I'm not a practitioner of the lightning-fast draw with any method of carrying a side arm. By long habit, smooth really does work out to be pretty fast for my purposes. There's no smoothness involved in withdrawing a Shield from trousers front pockets.
Pocket holsters don't complement ease of access when seated in a car so pocket carry cannot be relied upon from a car seat. By unbuckling and with contortions I can at least get the smaller handguns out of the Nemesis. I can forget withdrawing the Shield unless I get out of the car.
I think my brother-in-law carries a similarly-sized Kahr in a Nemesis. Perhaps I need to try the old familiar Nemesis model, one that fits the Shield. I'm thinking that the Shield is a mite too large for effective pocket carry no matter the holster chosen, unless one doesn't mind fiddling a bit with his draw.
The Sticky Holster is well-made of modern materials. It's not any larger than it has to be for use with the Shield. I really think it's the size of the pistol. I'd try another Sticky Holster model with one of my smaller handguns.
The Sticky Holster claims to double as an IWB holster. An accessory attachment to convert it for ankle holster use may be purchased as well. I've not yet tried using the hoslter IWB and don't have the ankle holster attachment. I don't see carrying a Shield on my ankle.
Anyone else carrying Shields and similar pistols in a front pants pocket who would have a recommendation?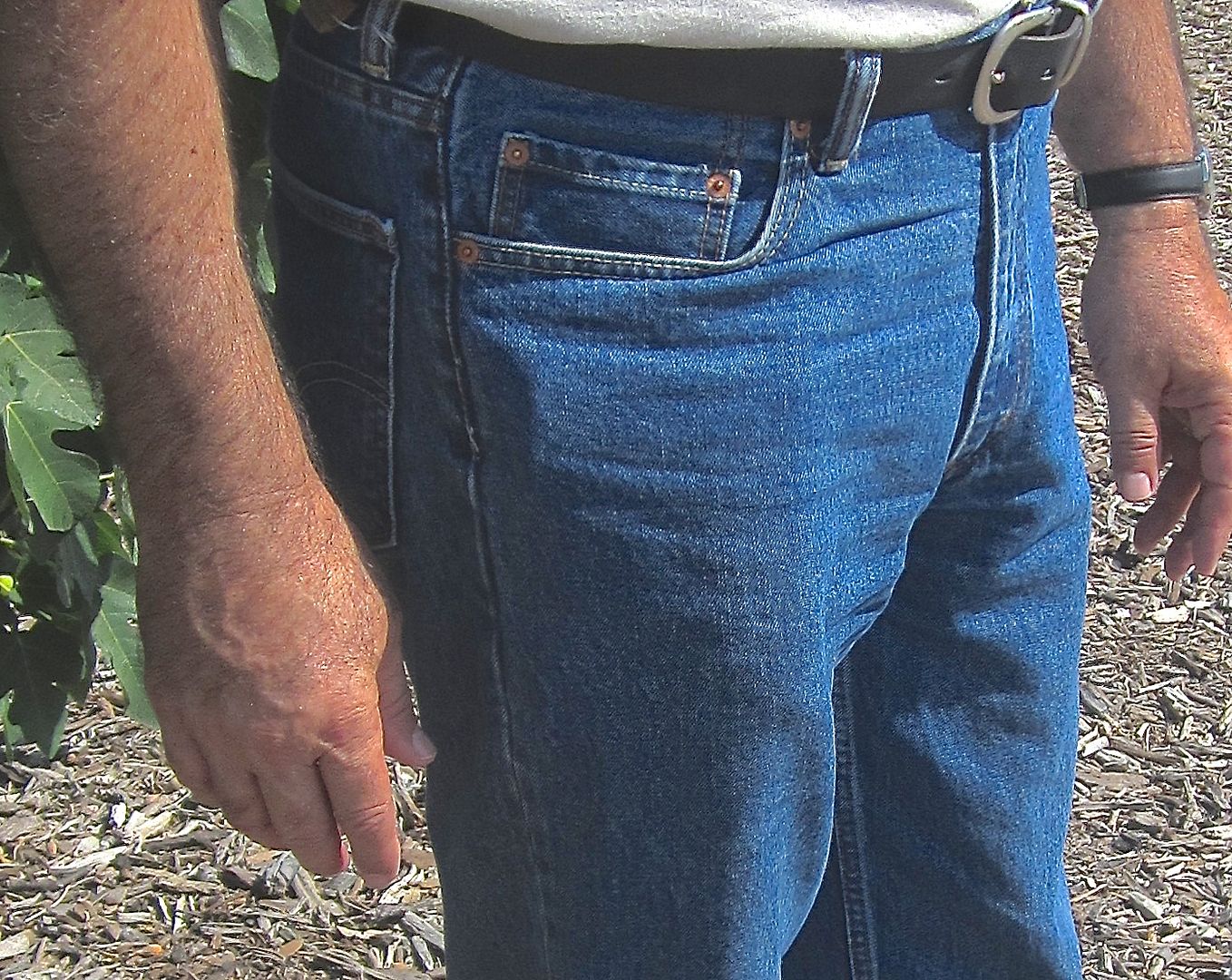 Jeans are the toughest test of both drawing and concealing the Shield.