Discussion Starter
·
#1
·
Took a little time yesterday to work with my P95. It has proven itself reliable and I have moved it into my EDC rotation.
This is my final target, double taps (DA/SA), point shooting from draw to hip at 5 yards.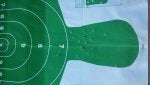 Real happy with the COM hits, although the first double tap was a bit low.
The head shots seem to be all over the target. At 5 yards, if this target was moving, most would have been misses.
The far right and far left shots were the last double tap fired and in that order. Not sure if the degrading of the group was due to fatigue or frustration or both.
I tire quickly, so my range sessions are seldom over 50-100 rounds. Yesterday was an exception were I shot 200 rounds in about an hour.
I worked solely on point shooting from 5, 7, & 10 yards. Shoulder point at 7 & 10 (one & two handed) with Hip at 5 (right hand only).
Thoughts critiques?
AzQkr or Mike1956, any suggestions? I know you have more experience than I will ever have.
Sorry for the sideways pics, they aren't that way on my computer.