Discussion Starter
·
#1
·
Kevin from
www.kdholsters.com
PMed me today. He posts at
www.shooterslobby.com
under the name "K-Man". Anyway, "krang" a member both here and at the Lobby told him I was looking for a holster for my 4006; so, he contacted me (seems like good business sense to me).
Here is a pic of his Belt Defender "Eagle" model: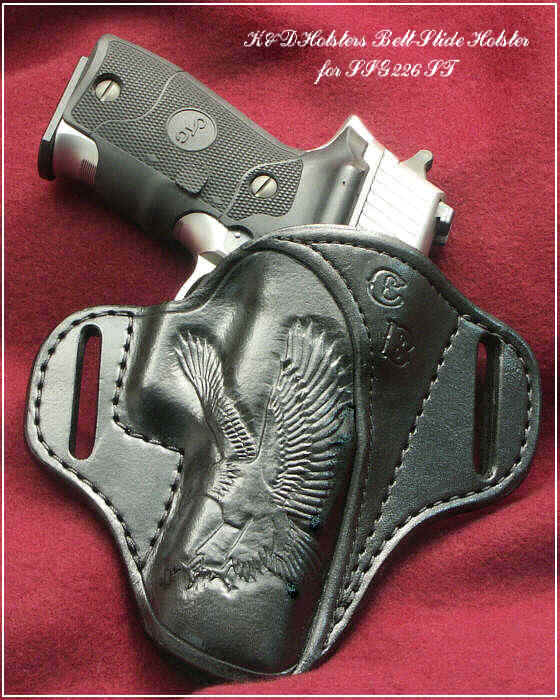 He does offer a non-carved model of the same holster with a price of $45 or $50. I can't remember exactly.
He sent me a pic of the Defender with a clip instead of the belt loops:
That inspired me a bit, and we set about PMing each other for a while. I was concernced that a clip only wouldn't hold the pistol close enough to the body. I was also worried about the holster coming off of the belt in a gun grab situation. So, I suggested that we do something like the Defender with the clip and a retention strap like on the Andrew's Leather McDaniel: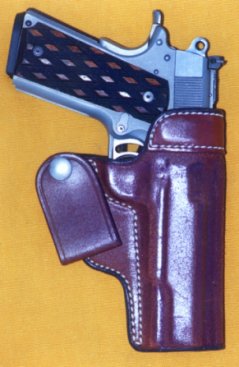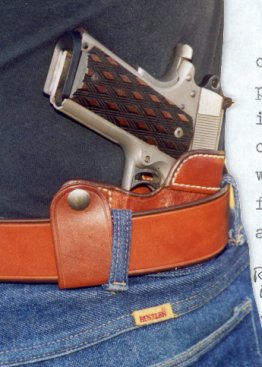 Another suggestion I had was to do a rear loop like on this Ted Blocker model with the clip on the back of the holster:
Later in the day I called Kevin, and we talked for a while about the design.
What we decided to do was the Defender with the clip on the back of the holster with the rear loop similar to the Blocker model. The thinking is that the holster could be clipped on the waistband/belt if in a rush. Under normal circumstances, the belt can be run through the rear loop for stability and to pull the holster tighter into the body. We also decided to put a thumbstrap on it as I will be wearing it on duty, and an open top holster might be too inviting for a gun grabber.
I'll be sure to post a review of the final product when it arrives, and I get a chance to test it. I still think that I want to try one with the strap like on the McDaniel model from Andrews. I ordered this first holster in black with a matching mag pouch.
I would like to note that Kevin actually ordered a cast model of the 4006 to use to build this 4006 holster; so, I sure hope that he sells plenty of holsters to make up his initial investment. All you S&W owners out there be sure to give him an order for one.
Here is a look at some of his other stuff. The pics were provided to me by a satisfied customer of K&D.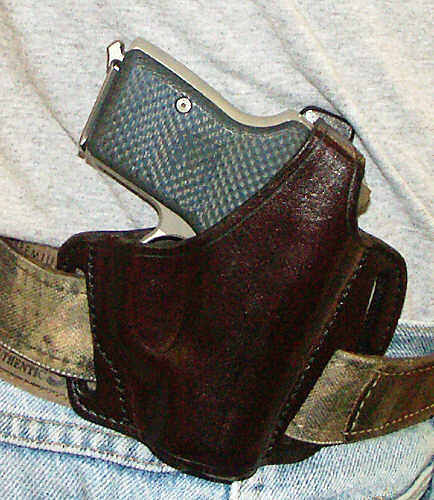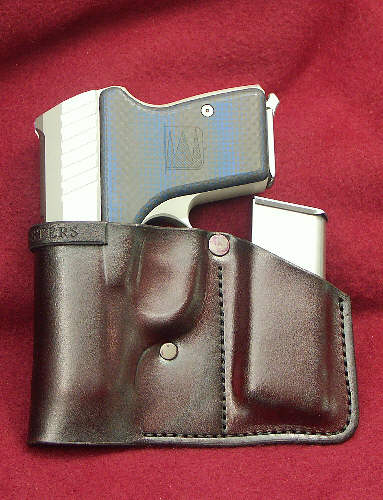 note: the extreme cant in the last pic is due to camera angle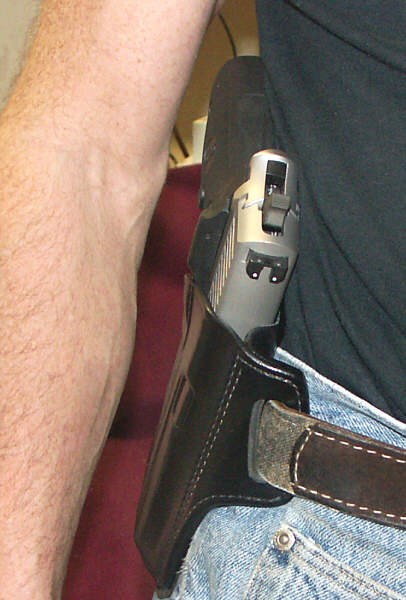 and this one: