Discussion Starter
·
#1
·
And it's a short range report, because a customer who saw me shooting it bought it as soon as I got off of the range. It was going to be a range rental, but money talks! I saw a few mentions of this gun in other threads, but no range report, so here we go with the pics.
Sort of a Glock and M&P combination. I hear that it's from a company run by former Kel Tec employees, not sure how true the rumor is. The internals are very Glock and Kahr and not very Kel Tec. Kahr sear and trigger bar, Glock Striker and safety. The grip is more comfortable than it looks. The pics compared to the G4 Glock make it look like a very steep grip angle.
Compare with my average sized hand. Except for the M&P slide serrations, it's very Glock looking.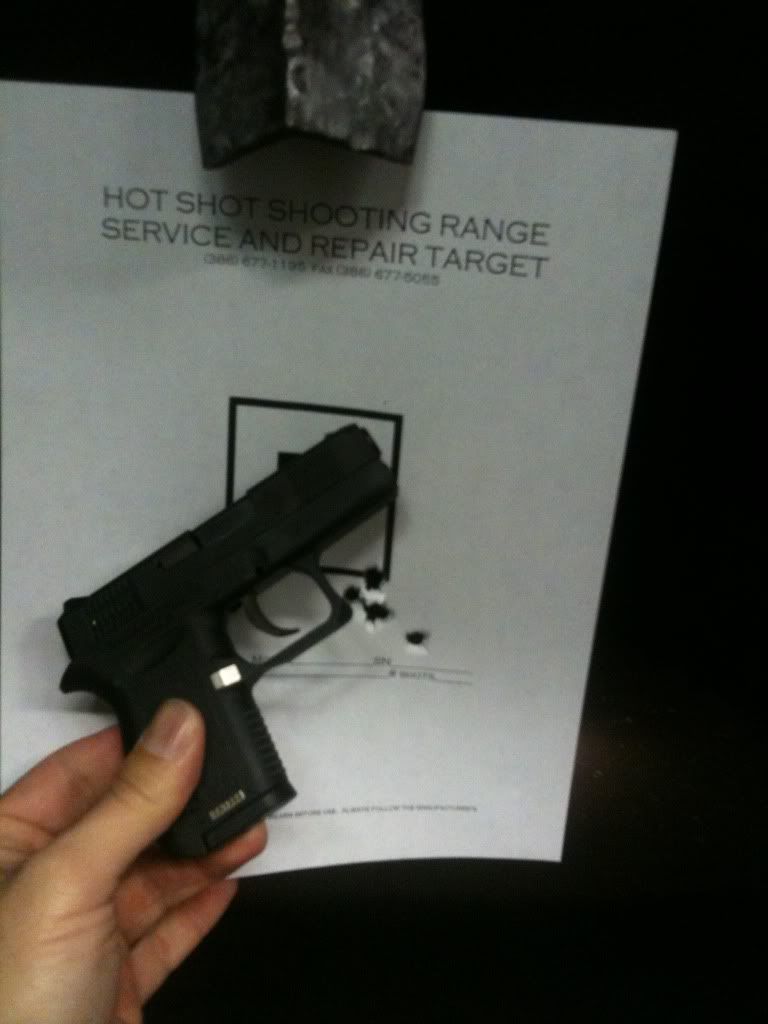 It's not me, I swear, it shot a little low right for all the testers.
Compared to my "Ole Faithful" Kel Tec .32. The DB is a bit thicker.
One shooter had a failure to go fully into battery when loading from the magazine. It was the first round loaded into the pistol that day, and riding the slide forward a bit could not be ruled out as a cause. One fat-handed shooter got a bit of slide bite. I was surprised to see that considering the beavertail. Accuracy at 21' was good, and a tap of the sight would be all that was needed. No other failures were experienced in 50 rounds of Magtech JHP, all we have in stock right now. We cleaned it for the new owner and saw no obvious unusual wear, peening, or any other bad stuff. The magazine is excellent, probably Mec Gar, and laser engraved "Diamondback" on the spine. A +5 coolness points, but functionally irrelevant. We did not think to check for the "smiley" problem that affects other brands of small .380s. I will give it a look with the next one we get.
Bottom line: Fit and finish were good, it functioned well in our limited test right out of the box. Recommended as much as any new-to-the-market pistol. We have ordered three more, one will go to the range rental pile so if it gets popular I'll be able to report on the long term