Discussion Starter
•
#1
•
So I made a post a bit ago talking about a Lee Loadmaster I purchased. The quality wasnt there, and it had so many problems that I didnt want to deal with, I sold it before I even loaded a single completed round. Ive used other Lee single stage and turret presses, and they were fine, but looking for a nicer progressive press to stock up on ammo, mostly pistol.
Of course Im going to load some occasional rifle ammo, but worst case if I decide to, I have an older Lee Turret Press that I can use, so my new progressive doesnt have to be totally optimal for it. I dont see myself doing bulk 223 or anything anytime soon. Been there, done that, not fun. Case prep sucks.
My original plan was the RCBS Pro Chucker 5. I know it had primer setup issues, but they were supposedly fixed. Most people are happy, although it seems some people still have issues. Now Im looking at the Dillon XL750. Neither seems like it is exactly what I want, but maybe if I list off what I want and what I dont, you all can help me narrow it down.
Wants:
-Auto index
-Case feeder
-Bullet feeder
-Headache free operation
Dont want:
-Giant, electric bullet feeder
-Giant, electric case feeder
-Fiddly, temperamental operation
For more info on that, in an optimal world, Id have a case and bullet feeder. That being said, the ones with the big hopper that you dump bullets and cases in, and need different conversion kits for different calibers, bullet types, more electrical outlets, giant hardware thats way up in the air, mirror setups to see down inside them, etc. No interest in that, Id rather feed bullets and cases manually before I had a setup like that. What I do like the idea of is something like the Mr Bullet Feeder product, where you just have a magazine setup with multiple tubes, that you can pre-load casings into. Ive found one that Double Alpha makes, and it seems to meet my requirements. One of the reasons I originally went with the Lee is because of the case collator and feeder was the type I wanted. This seems to be the same, just a higher quality. This is the product for anyone interested.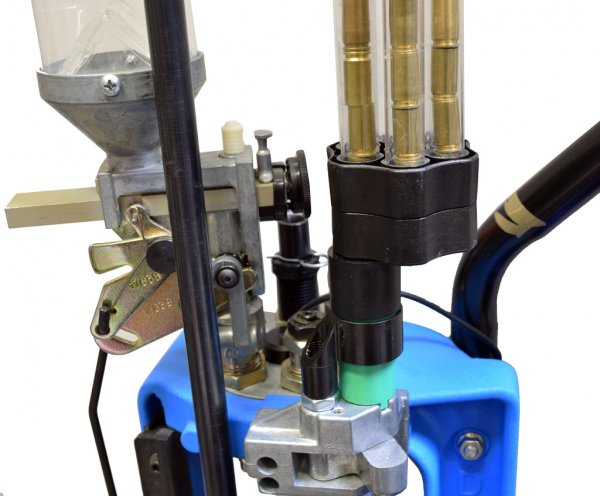 The Dillon XL650 and the Dillon XL750 are among the very best progressive reloading presses and one of the most popular on the market today.It's optional motorized case feeder is an excellent accessory, and highly recommended for those who can afford it. But it does add a ...
www.doublealpha.biz
Bullet feeding is less important to me, but it seems like RCBS has a bullet feed die that is pretty affordable and might work well. Its another setup with just a tube you drop bullets into manually, and then it feeds them into the case mouths. for $30, might be worth a shot. If it doesnt work, not the end of the world.
Shopping for the Bullet Feed Die -Pistol? Learn more about the latest Reloading and other hunting or shooting gear at RCBS.
www.rcbs.com
Between the two presses, there is a $95 difference. The RCBS offering can be had at Natchez for $565, and the base Dillon machine is $650. Either of them will be on an Inline Fabrication mount. Im not too worried about the price difference. I just want the machine that will be easy to set up and be headache free. Im not some shooter who goes through a thousand rounds a month, but would like to load a few thousand rounds up front (mostly 38spl and 9mm for now, with other pistol calibers down the road) and then maybe 500-1k rounds a month to put away for long term storage.
Any thoughts on these two and which would be better for my needs?