Discussion Starter
·
#1
·
I ordered a few things from Brownells the other day, including a Blade-Tech Kydex IWB holster. Well I got all the stuff yesterday. I opted for the Blade-Tech over the Milt Sparks IWB holster because with summer coming I know I will sweat and I wanted to try something new. My 1911 is at Springfield Armory getting worked on so I don't have my personal pistol right now. I do have an old Colt and I tried my father-in-laws SA loaded model. Both fit extremely well. I can take the holster gun (UNLOADED) and hold it upside down and shake it with the gun staying right where its supposed to. Drawing is very quick with it and it conceals very very well. Not quite as well as my HBE comm2 did with my CZ P-01 but still very good.
It has two tension screws that work very well. They suggest that once you get it where you like then use locktite on the tension screws. Also the belt loops are made of rubber and are adjustable for 1.25", 1.5", and 1.75". Also the belt loop towards the front has two different anchoring points making it adjustbable for either straight up and down carry or an FBI cant of 15 degrees. The backside of the holster comes up higher to protect the guns safety and to keep sweat from getting to your gun. Over all I am very impress with this holster. I can't wait to get my gun back now.
Here is the pic from the manufacturer. I will have more pics either this weekend or I'll wait untill I get my 1911 back.
I paid something like $45 for this holster. Here are the pics. (I was in a hurry so don't make fun of me.)
Here is an old Colt in the holster.
Here is the back of the holster.
Here you can see the gap between the holster and the safety. It is significantly narrower when worn.
Another shot of the back. It would be very difficult for anything to get the safety.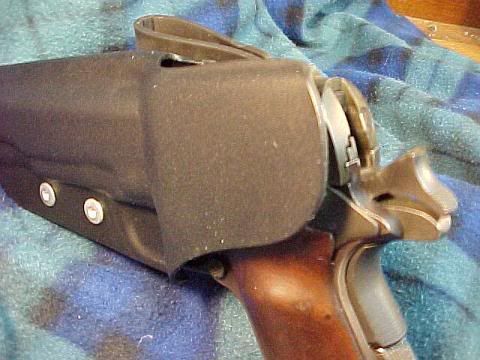 Here you can see the belt loops are adjustable for different sized belts.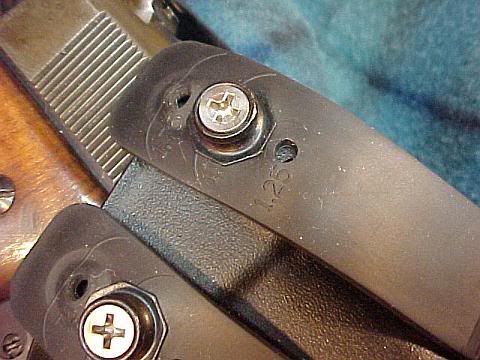 Here is the open side of the holster.
Can't tell I'm carrying can you.
Ahhh there it is.
If you need any other pics just let me know.
clipse