Discussion Starter
·
#1
·
With AR prices gone crazy as of late, when I saw a S&W M&P 15 for $1499, I pondered over it and did some trading and took it home. I think the price is a bit high; I don't think this is a $999 gun, but it's still a few hundred high. The gunshop claims this was not an inflated price. I know the owner personally and I think he was honest about it.
As you can see, it has a collapsible stock, folding rear sight, and quad rail forend - fixed front sight, and it came with one Magpul 30 round Pmag. And this will probably get you - I bought 3 more 30 round Magpul Pmags without the windows for $19.95 ea. And then the other day, I bought 2 more Pmags with windows for $21.95!
As seen in the pic, I've already replaced the stock with a Magpul friction lock and the pistol grip with a Magpul MIAD PG. I really don't like the stock AR pistol grips.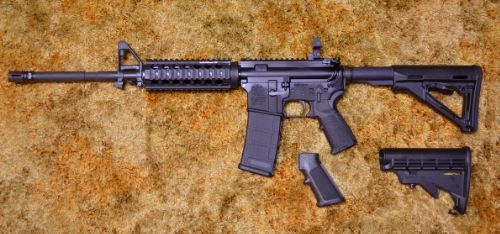 I have an Armalite AR15 carbine that I've had many, many years, but thought it was time to update, and that was one thing that lead to my decision to buy - well and the current uncertain political climate.
I noticed the forend was a bit loose, both back and forth and rotation. Both are very slight, but still you feel it. I called S&W and they immediately said they would send me a shipping label to return it for inspection and repair. While that's excellent customer service, it would have been even better if the problem hadn't been there in the first place.
Here's one of my setups for it - this is an Aimpoint RDS in front of an AN/PVS-14 night vision device. There's also a Surefire X300 weapon light on 'this' side and a Lasermax UniMax infrared laser on the bottom handguard rail.
A Streamlight TLR-1 infrared illuminator - essentially an invisible weapon light, could easily be added too - it looks just like a TLR-1 without all the Streamlight logo:
I thought that was strange, but it does appear to be a Streamlight - here's the only marking on it:
And does it ever work! The beam is typical Streamlight - bright center and lighter spill. But the 'spot' would easily reach 200 yds with the PVS-14 night vision monocular.
I thought shooting it (without the night vision) was a bit of a let down. It's a fine gun, I'm just used to shotguns and when I shot it, I kept waiting for it to recoil and a big hole to appear in the target . Actually it was fun to shoot - I was just really amazed at how acclimated I have become to shotguns. The AR seemed to have no recoil at all.