Discussion Starter
·
#1
·
Well, it's like this .... I was going to make another payment today on the XD45 I had in layaway. I'd been thinking about it for the past couple weeks and I just wasn't convinced it was the right gun for me. I knew what I
really
wanted and had looked at it last time I was in the shop. When I walked in today it was still sitting there in the case so ... The XD has now been replaced with a SS Colt XSE Combat Commander! :banana: (This isn't mine but it's identical):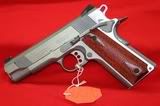 It's a good bit more expensive than the XD but the guy at the shop swapped 'em out free of charge so I didn't lose any money, just had to add some to it ... it'll be a bit longer before it comes home though :frown:.
I've been fairly pleased with my SA Mil-Spec as a carry weapon and I've grown comfortable with the 1911 over the last 15 years so it just made good sense to have my "other gun" in the same platform. It'll probably work out that the Commander will be the new primary and the Mil-Spec will be my outdoors "beater" or secondary in case the Commander is out of commission for some reason. I'd considered getting a second Mil-Spec and setting it up to be identical to my current primary but I've got a surgical scar on my hip and the 5" barrel is
just
the right length to rub it wrong every so often. I'm hoping the 4.25" barrel, along with a Max-Con V's "Sciatic flange" will put an end to that. Should also be just a tad easier to conceal OWB if I decide to go that route.
I've always had really good luck with Colt 1911s: They feel great in my hand, the stock trigger pull has always been at least "acceptable" and the series 80 parts really don't matter to me one way or the other. I've already got all the mags I need for both range work and carry so, with the exception of a holster or two, once the gun tests out okay it'll be ready for carry. I'll probably replace the std. parts (slide stop, extractor, etc) with Wilson Bulletproof and "might" swap the ambi safety out for a single side but other than that it'll be stock ... other than another set of Hakan's grips of course!
Okay, sorry for the rambling but I just HAD to share the news. I think the Commander will suit my needs MUCH better than the XD.
Jack