Discussion Starter
·
#1
·
http://www.shooterslegacy.net/articles/laredodefender.html
Laredo Defender from K&D Holsters
By J. Lee Weems
Several months ago, I aquired a "Laredo Defender" holster from K&D Holsters, which can be found online at
http://www.kdholsters.com
. I have been wearing the holster on an almost daily basis since it arrived, and I would like to share my opinion of this holster.
The Transaction
The customer service I received from K&D was outstanding. I mentioned on an online forum that I was looking for a new holster for my issued S&W 4006. I had recently switched from uniform to plain-clothes duty, and I needed a holster for my new assignment. A satisfied customer of K&D sent an email to Kevin Manley, the proprietor of K&D Holsters, alerting him to a potential customer, and Kevin contacted me and offered to work with me to create a holster to my specifications. Kevin and I swapped countless emails and had a few phone conversations discussing possible design options for my holster. What I wanted was a holster that was easy to put on and take off, preferably without having to slide it on and off a belt each time, but that also fastened to the belt and had a thumbsnap. As this holster was going to b
e worn on duty, I was concerned about the possibility of a "gun grab" and I wanted more retention options than a standard paddle holster would offer while being as easy to put on and take off as is a paddle holster. We settled on a design, and Kevin set about making the holster. A couple of weeks later, Kevin emailed me to say that he had created a prototype holster based on our discussions. However, he had a concern about the design, and he wanted to discuss it with me. He very well could have simply produced the holster as I specified, but he made to the extra effort to satisfy the needs of his customer. We discussed a few changes to the design, and the result was the Laredo Defender. The holster that I am reviewing is the prototype. The total turn around time from order to receiving the holster was less than a month including the design change. I also ordered a matching magazine pouch, which I will also comment on in this review.
The Holster
The holster is what I would classify as a pancake style holster. However, instead of belt slots, this holster attaches to the belt via two straps that wrap around the belt and fasten with snaps. This allows the user to put on and take off the holster without having to slide it on and off of the belt. The back of the holster is pre-curved, which allows it to fit close to the body. As discussed above, I ordered this holster with a thumbsnap, as I will be wearing it on duty. My issued duty weapon is a S&W 4006. This holster also works for the S&W 4013 that I recently acquired.
Here is the Laredo Defender before it was dyed black.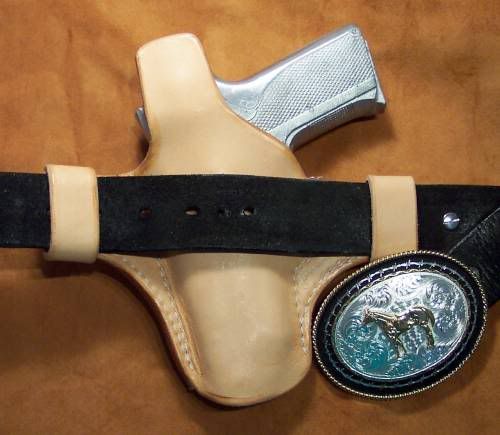 Here is a rear view of the Laredo Defender showing how it wraps around the belt.
Performance
I have been very pleased with the holster. It is very comfortable, and it stays in place well. I constantly had to reposition the Gould & Goodrich pancake holster that I was issued, and this is not the case with the Laredo Defender. It holds very tightly to the body and disappears under a sport coat. I have even worn it to a training session with other officers with only a baggy T-shirt covering it, and the other officers did not notice my weapon. In fact, later in the training session I showed the holster to one of the other officers, and he was shocked, as he had no idea I was wearing a weapon.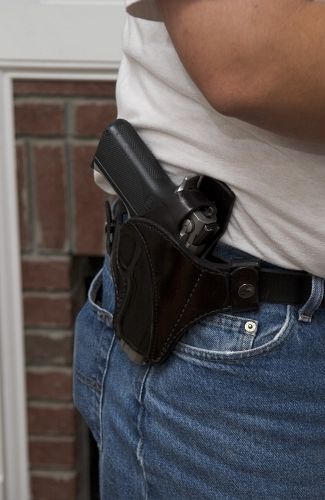 The Laredo Defender fits tightly to the body.
The draw from the Laredo Defender is extremely fast. I am amazed at how fast I can get my pistol on target from this holster. This holster is also not what I refer to as "belt dependent". I have worn it with several different belts, even a nylon under-belt with no buckle, and it balances very nicely and stays tight to the body regardless of make or width of belt.
The one change that has been made from the prototype is thumbsnap design. The strap on the prototype is tapered as it goes behind the hammer instead of staying the same width all the way to the snap. The snap itself is small, and I have bumped it open a few times. It is easy to snap back together, but the snapping movement takes a little more care than it does when using a larger snap. I discussed this issue with Kevin, and future holsters will use a wider strap and a larger snap thus eliminating this issue.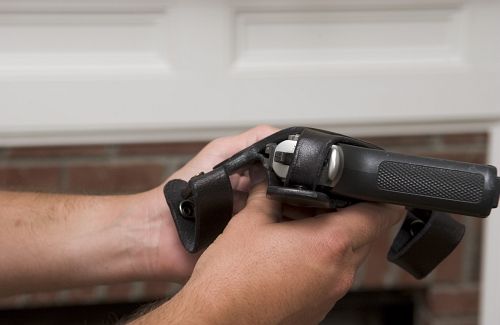 A top view of the Laredo Defender showing how it curves to fit to the body.
I also ordered a magazine carrier from K&D, and I have been very pleased with the magazine carrier as well. It rides comfortably on the belt, and the magazine stays secure in the carrier until I remove it.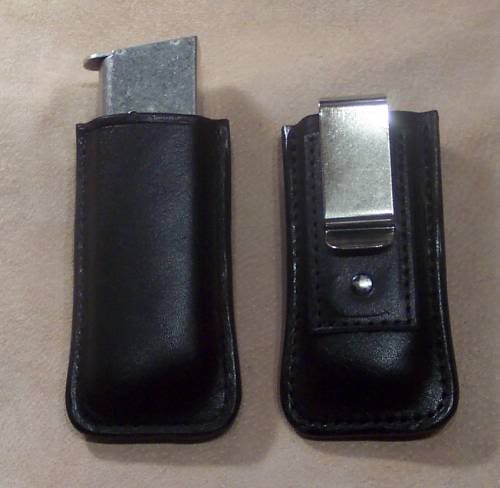 The clip-on style magazine carrier is a great value at $18.00.
Conclusion
As you can tell, I have been very pleased with the Laredo Defender. It has rapidly become my favorite holster. It fits tight to the body while still allowing for a very fast draw stroke (even faster than my kydex paddle holsters). It is easy to put on and take off while providing much more retention than a paddle holster. The Laredo Defender always draws the attention of other officers and my shooting friends, as it is a very nice looking holster. The Laredo Defender is also a very nice value at $62.50. The magazine carrier is a nice match to and is a good value as well at a price of $18.00. Plus, you get to deal with a company that will provide you with great customer service and will work with you to satisfy your holster needs. You can contact Kevin via email at
[email protected]
to discuss your holster needs with him