Discussion Starter
·
#1
·
Any "Survival" Rifle for sure depends on what exactly it is that you intend to "survive" but, this inexpensive little (SELF STORING) Stoner Rifle was always SOOO doggone cool! Read about it. (below)
There is a NEW modern version! Kewl!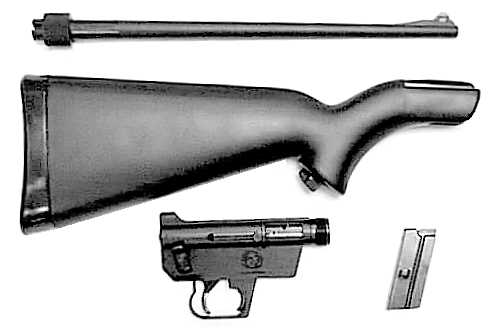 The AR-7 was originally designed in 1959 by Gene Stoner of ArmaLite in response to the United States Air Force's need for a compact survival rifle. Following a period of production exclusively for the military, the AR-7 was introduced to the public market. It was featured in the early James Bond movie From Russia With Love, as well as other films.
Charter Arms acquired the rifle from ArmaLite in 1973, marketing it throughout the world. In 1990, Survival Arms, Inc. purchased the company and manufactured the rifle with engineering and material improvements, including the introduction of the sporterized AR-20.
Now AR-7 Industries, LLC will add new innovative models and accessories - enhancing the original design - moving forward into the 21st century of manufacturing.
This lightweight sportsman's version of the famous U.S. Air Force survival rifle breaks down in seconds, enabling barrel, action and magazine to fit neatly into its dirt and water resistant stock.
When stowed, the AR-7 is only 16 ½" long... less than a foot and a half. It's ideal for backpackers, boaters, bush pilots... anyone who wants the security of an accurate semi-automatic .22LR without lugging a heavy, full size rifle around.
The AR-7's unique self-contained design lets it sit for months without attention. Yet when needed, it's ready to shoot at a moments notice. Assembly is made quick and easy... without tools! Simply attach stock and barrel to action, feed the clip... and fire!
Uses high velocity .22LR rounds. Also features adjustable sights and convenient thumb safety.
Accessories list includes: soft carrying case, non-collapsible sporter stock, steel barrel, various round magazines, scope rings, a side scope mount plus a sporter conversion kit.
AR-7 .22LR Takedown Survival Rifle
Specifications:
Caliber: .22LR - High Velocity
Magazine: 8 round
Sights: Peep Rear / Ramp Front
Barrel Length: 16 in.
Stowed Length: 16 ½ in.
Overall Length: 35 ¼ in.
Weight: 2 ½ lbs.
Sugg. Retail: $150.00

AR-20 .22LR Sporter Rifle
Specifications:
Caliber: .22LR - High Velocity
Magazine: 16 round "Flip Clip"
Sights: Peep Rear / Post Front
Barrel Length: 16 in.
Overall Length: 32 7/8 in.
Weight: 2 ½ lbs.
Sugg Retail: $200.00
To order AR-7 Industry rifles, please contact your local gun dealer!