Discussion Starter
·
#1
·
Hello. I don't know that I'd be here right now were it not for the forty-five Colt auto shown below. It was purchased in the '70's and eventually worked over by Lou Williamson, a fine gunsmith whose speed in completing projects tends to favor the Biblical definition of a day...but the wait is worth it.
This gun had S&W K-frame revolver sights added and he silversolder a shop-made ramp front sight on the gun. A few years later I had the gun blk parkerized, with the guts hard chromed, and the front strap checkered 20 LPI. The trigger job he originally did held constant so no changes were necessary. The collet bushing was replaced with a fitted one. It also has an Ed Brown hammer, sear, and grip safety.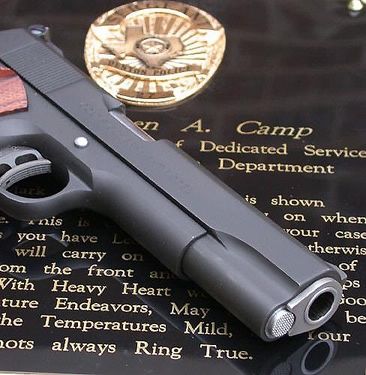 Though not my first nor near my only duty gun used in police service for twenty-five years, this one for absolute sure kept a straight razor off of me one evening. I have no doubt in my mind that the spaced out dude that ran at me with the razor drawn back intended to cut me to pieces if he could; I could see it in his eyes. This ol' Colt changed his mind. The thumb safety clicking off said all that was needed...and I reckon that's good in the long run. This is the gun that stood between me and a hostage taker one night when things went wrong in a hurry. It was the gun in my hand when I arrested a "man" who'd beaten his infant son to death, wrapped him in a blanket and then tossed the little boy into a closet. He carried a handgun now and again, but favored the knife and threated to kill the next cop he saw that was "hassling" him over "that damned kid." He was arrested w/o incident. There may be more, but this one holds special favor with me and is why it was photographed on my retirement plaque. I had it refinished when it was retired from police service.
Like many of you, there are other "special" guns in my collection, but I wanted to let you see this one. It is also the Government Model on the cover of my book on 1911 pattern pistols for the same reasons, affection and gratitude.
I'm sure the sights are out of favor now, but I like 'em and I suspect this one will be with me to the end.
Best.