Discussion Starter
·
#1
·
But in a nice way.
Why?
'Cause I'm finally a member of the HK P7 cult! :banana: :banana: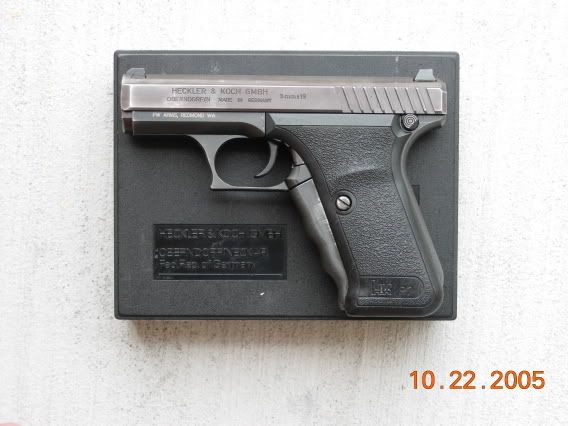 I purchased this P7 over at Gunsamerica.com. The seller was John Zephir at Zephir's Sportsman's Supply & Equipment. This purchase was my first (and very positive) experience on Gunsamerica.
I purchased this gun on my birthday (or at least I placed the order) and received it on Friday.
The gun feels great in my hands and the Euro bottom magazine release doesn't bother me. It's just going to be whole new manual-of-arms I will have to get used to.
Now for a nice cleaning (and checking of the piston, gas port and extractor which all look good after field stripping the gun)....I wish it came with more than one magazine. They are still available from some sites I see for between $50-60 dollars.
Here's the original sale posting:
http://www.gunsamerica.com/guns/976539418.htm
I will shoot the gun this week (Hurricane Wilma permitting).
I already see a hard chroming job, night sights and Nills wooden stocks in her future!
Any other P7 owners out there?