I wrote of my experience with the 9mm Hi Point while running it through a four-hour intensive class with Chris Fry and Progresive FORCE Concepts. I mentioned it in passing to one of the students who was there today (at the Dec. 10th 300-400 level class, which was on handguns). "I couldn't believe that ugly thing worked and worked," I said.
"Neither could I, frankly," he said.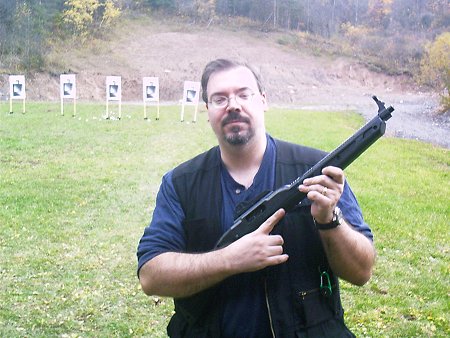 I am convinced, therefore, that the reports I have read elsewhere are true. I can say from personal experience that out of the box the weapon performs -- and it performs with reasonable accuracy and reliability. I can also say that it's full of sharp edges, awkward non-ergonomics, and rough workmanship. (The magazines are also a weak link -- you have to slap them good to make sure the rounds are angled properly and those rounds can get pointed down and cause a misfeed if you're not diligent.)
Almost anyone can afford more gun if they save up over time. There are, however, people who cannot afford more
right now
as opposed to later when they've saved. Is it better to have no gun, or to have a cheap, ugly, uncomfortable gun? I'd say the latter -- but that doesn't mean I intend to spend another four hours letting this thing cut up my hands in repeated relays.